Apple Again in Talks for Peer-to-Peer Mobile Payments, May Launch Its Own Visa Debit Cards
Apple is once again rumored to launch its own Venmo-like service, allowing iPhone users to pay friends and family members also on Apple's ecosystem. Sources speaking with Recode mentioned that Apple intends to announce the service -- which could have a name like "Apple Cash" -- later this year, potentially at its fall iPhone event.
Sources conflict on whether or not an announcement and release date have yet to be set, however, with another person familiar with Apple's plans suggesting that the company's Venmo-like service is still very early in development. Today's news of a potential ramp up of an in-house, peer-to-peer payments service from Apple comes over a year after the company was first rumored to be discussing such a service with a collection of U.S. banks.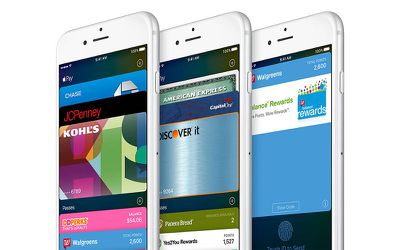 Apple's on-again, off-again flirtation with building its own money-transfer service appears to be back on.

The company has recently held discussions with payments industry partners about introducing its own Venmo competitor, according to multiple sources familiar with the talks. The service would allow iPhone owners to send money digitally to other iPhone owners, these people said.
The unnamed Apple payments service would include a major partnership with Visa, according to the sources, allowing users to obtain digital pre-paid cards that would run on Visa's debit network but be tied directly into Apple's peer-to-peer service, and could also be added into Apple Pay. In this way, users could get paid through so-called "Apple Cash" from a friend, and use the Visa card and Apple Pay to spend the money at a retail location or online, "without having to wait for it to clear to their bank account."
The peer-to-peer platform is being looked at as a way to boost Apple Pay adoption and usage, which Apple itself has admitted to be slow over its first two years, but which the company believes to be on the path to replace cash and cards. Apple is expected to not charge users of the new payments service, so the company's only profits from the platform would come from those who opt-in to use the Apple/Visa debit card, which some banks are concerned about.

The potential of Apple getting its own debit card, however, is not sitting well with some bank executives, sources told Recode. Some plan to raise their concerns with Visa next week during an annual summit that the credit card company is hosting for its bank partners.

"Banks spent heavily in insuring their cards were top of wallet when they all built and rolled out Apple Pay," said Cherian Abraham, a digital payments executive at Experian. "So it's justifiable to be concerned that Apple will have its own card and could potentially be top of wallet. If you are top of wallet, you are top of mind."
There remain many questions in regards to Apple and Visa's potential partnership, including whether or not concerns from banks would scare Visa away, or if Apple would launch an enticing enough rewards program to convince people to ditch their current credit or debit card for the new one. To gain the most traction, sources believe that Apple could be targeting teens and young adults with the new service, because the pre-paid card would make it easy to spend the money sent to them from friends and parents through "Apple Cash."