Hover Camera Passport, a lightweight, personal drone-style camera from Zero Zero Robotics, is available on Apple's website and in Apple retail stores in the United States, Canada, China, Hong Kong, and the UK starting today.
The Hover Camera Passport can be thought of as a sort of next-generation autonomous selfie stick that's able to follow you around and capture a hands-free photo whenever you wish.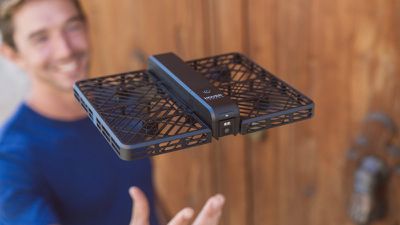 It's made from a lightweight (242 grams), foldable carbon fiber material so it packs down small and can go anywhere, and it's equipped with face tracking and body tracking so it knows who to follow. The drone travels up to 17 miles per hour and can hover for 10 minutes at up to 65 feet away, so it's able to track a user that's running, walking, biking, or engaging in other similar physical activities.
There's a 13-megapixel camera built in, which can also capture 4K video. Since it's a flying camera, it can capture 360 degrees of panoramic video, and it's designed to be flown right out of the box, so even people unfamiliar with drones can pick it up and fly it.


The Hover Camera Passport is controlled through the Hover Camera iOS app, which provides features like a real-time video feed, quick social sharing, multiple flight modes including spin and orbit, auto follow, and picture-taking features.
New features are being added to the Hover Camera Passport for its Apple Store launch, including compatibility with iMovie and Final Cut Pro X, a more user-friendly interface, and automated media editing to create small, moving clips that can be shared with family and friends.
Zero Zero Robotics is offering a $499 Apple-exclusive bundle at Apple Stores, which consists of a Passport flying camera, two batteries, a charger, an adapter, and an easy-carry bag. Apple retail stores will be hosting in-store demos of the Hover Camera Passport so customers can try it out. 42 retail stores will begin demos today, and other stores will start demonstrations in May.