Apple Could Offer HBO, Showtime, and Starz Channels as 'Premium TV Bundle'
Apple is considering offering HBO, Showtime, and Starz television channels in a combined "premium TV bundle" to be delivered to viewers via Apple TV and iOS devices, according to a new report on Sunday.
Apple already enables users to buy the named channels individually, but according to a source who spoke to Recode, Apple has approached the three networks about rolling them up into a single paid package similar to how conventional TV operators market their channels.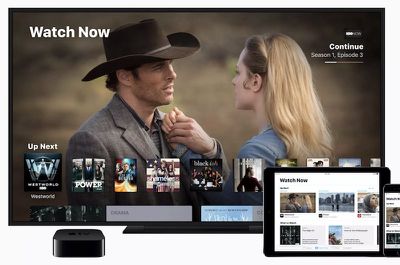 However, unlike paid TV operators like Charter, which usually require consumers to subscribe to a basic range of TV channels before offering a premium bundle, Apple wants to provide the package as an upfront standalone option for all its consumers.
Apple has yet to nail down a deal with any of the networks, according to industry sources, while representatives from HBO, Stars, and Showtime declined to comment on the report. Apple also didn't respond to requests for comment.
Apple currently offers HBO for $15 a month, Showtime for $11 a month, and Stars for $9 a month, but Recode had no information on the price of any possible bundle package.
Apple's attempts to set up a traditional streaming bundle of TV channels have come to nothing in recent years, despite rival companies like Google and Hulu announcing plans of their own.
In 2015, Apple was in talks for a streaming television service that would bundle several popular live channels and on-demand television at a price point of approximately $30 per month, but Apple canned the project after being unable to establish the necessary deals because content providers were reluctant to unbundle their channels.
The company's assertive negotiation tactics with cable providers have also been blamed, with Apple executives accused of making demands networks aren't prepared to meet. Content providers meanwhile have been reluctant to agree to Apple's terms for fear of potentially compromising their traditional revenue streams.
Apart from its TV subscription service ambitions, Apple is said to be building a "significant" business centered around creating original, scripted television shows and possibly even movies, for a possible launch by the end of 2017.