Apple to Eliminate Several Business and Event-Related Retail Positions
Apple is planning another shakeup within its retail stores, according to a source who shared the company's plans with MacRumors. At the end of April, Apple plans to eliminate certain retail positions, including Business Manager, Business Events Lead, Events Coordinator, and Events Lead.
Apple Store Leaders began informing affected employees about the change earlier this week, and many were caught off guard by the sudden sunsetting of specialized positions that have long existed at retail stores.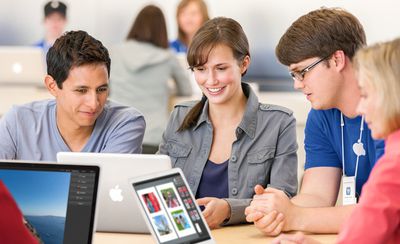 Our source says that the elimination of the Business Manager position is something of a shock because Business Managers lead the Business Team and are responsible for bringing in up to 20 percent of overall store sales.
"These managers have established relationships with various small and medium businesses in their markets," said the source. "Their position is highly specialized and often times not easily understood by retail leadership who do not have experience in B2B sales." Existing managers, senior managers, store leaders, and market leaders are currently unfamiliar with the "complex sales cycles involved with B2B engagements," so Apple's retail change could have a significant impact on business sales.
Employees who currently hold positions that are being eliminated have been told they can take a lower level (also lower paying in many cases) position or take two months of severance pay. "This comes as a rude awakening to employees who have always felt Apple has had their best interest," said the source.
Managers and affected employees have been notified about the imminent change, with a broader announcement planned for an all-hands meeting that will take place on Sunday, April 23. Apple may share more information on the reasoning behind the elimination of the positions and its future retail plans at that time. On its "Jobs at Apple" page, Apple has already removed "Business Manager," as an option, a change that was made recently.
The sunsetting of these specialized retail positions comes following some major retail changes that were introduced in mid-2016. Three new retail positions were added, including Pro, Creative Pro, and Technical Expert, and several other positions were renamed.