Apple Retail Ends Genius Training in Cupertino, Moves to In-Store Web Seminars
For years, Apple has sent new Genius hires to its Infinite Loop headquarters in Cupertino, or sometimes an auxiliary campus in Austin or Cork, to receive hands-on training for up to three weeks. Recently, however, Apple appears to have stopped offering these group-oriented trips, according to people familiar with the matter.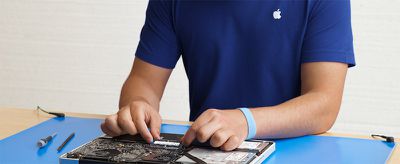 Apple's off-site Genius Training program has been replaced by an in-store, self-guided experience using company-provided reference materials, according to a source. The training now involves watching web-based seminars through the Apple Technical Learning Administration System, or ATLAS, another source said.
In Cupertino, Apple had a small training facility with a mock Genius Bar and Macs set aside specifically for trainees to take apart and perform test repairs on. But with the switch to web-based seminars, Apple is allegedly providing "virtual take aparts" only now, with no physical hardware.
"This means that many customers who check their computers in for repair may have their device serviced by someone who has never physically worked on their model of computer before," said a person familiar with the matter.
A handful of Geniuses have shared photos of their training experience on social networks over the years, with one person calling it a "life-changing experience" and others echoing similar positivity. One source described it to us as a "rite of passage" and "a milestone in the career" of an Apple retail employee.
Apple's Genius Training program was for years a rite of passage for Apple Retail employees: not only a training opportunity, but a chance to visit one of Apple's corporate campuses, to get questions answered at the source, and, for those who headed to Cupertino, to experience Silicon Valley and the Apple culture. The traditional "selfie" in front of One Infinite Loop was a milestone in the career of every Apple Genius.
Apple Store managers have been quietly informing new Genius hires of the changes in recent weeks. It is unclear if the off-site training is permanently discontinued, or if it could return to Infinite Loop or Apple's new campus in the future. Apple did not immediately respond to a request for comment.
Last year, we revealed a new Apple retail position called Technical Expert, which falls between Technical Specialist and Genius. These employees are able to provide mobile repairs, a task previously limited to Geniuses, and troubleshooting for software and products like the Apple Watch and Apple TV.