In a bid to reassess self-driving car guidances following the Obama administration, the Trump administration's newly appointed Transportation Secretary, Elaine Chao, said this weekend that she is reviewing the guidances while urging companies "to explain the benefits of automated vehicles to a skeptical public." Chao said that there's a lot at stake in improving and regulating the technology, and ensuring that passengers are safe when they use the new self-driving systems (via Reuters).
The guidances referenced by the Obama administration asked carmakers to voluntarily detail each of their self-driving systems by using a 15-point "safety assessment" precaution. Most regulations were also urged to be looked at by the federal government and taken out of the hands of the states. As a new administration approached last November, automakers concerned about the guidelines -- citing a need to give up "significant data" and likely facing months-long delays in testing -- asked the incoming Trump staff to re-evaluate.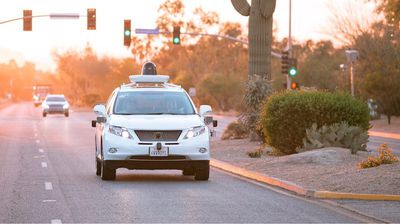 Google tests out its "Waymo" self-driving technology
Earlier in February, automakers faced Congress to request a few legislative changes that they hoped would "speed self-driving cars to U.S. roads." According to Chao, the Trump administration will do everything it can to be "a catalyst" for the industry and not become a blockade to progress in self-driving vehicles. Chao's thesis hit on asking Silicon Valley companies to first and foremost figure out a way to "educate a skeptical public" about why self-driving cars would be a good thing in the first place.
"This administration is evaluating this guidance and will consult with you and other stakeholders as we update it and amend it, to ensure that it strikes the right balance.

She said the Trump administration wanted to ensure it "is a catalyst for safe, efficient technologies, not an impediment. In particular, I want to challenge Silicon Valley, Detroit, and all other auto industry hubs to step up and help educate a skeptical public about the benefits of automated technology."
Vehicle automation has become a hot topic over the past few years, and even Apple hasn't escaped the rumors of working on a self-driving vehicle. The hopes for an "Apple Car" have largely been dashed after vans roaming around the country were debunked as data-collecting vehicles for Apple Maps, and any of the company's efforts to build a full Apple Car have since shifted towards focusing on an autonomous driving system. In a letter to federal regulators last year, the company further confirmed its interest in "machine learning and automation" as it relates to motor vehicles, hinting that Apple wouldn't be averse to creating self-driving software that's used in another manufacturer's vehicle.
The letter was sent to the U.S. National Highway Traffic Safety Administration, and some of it aligns with other automakers' concerns over the established self-driving guidances. In its letter, Apple referenced an issue with delayed testing for companies entering the automobile industry with automation technology, as well as an agreement that companies should share sufficient data in relation to crashes and near-misses, but it should never come at the expense of breaching privacy.
Both of these suggestions, and a collection of others, are points that Chao aims to evaluate as the administration updates and amends the guidance for self-driving vehicles, "to ensure that it strikes the right balance." The Transportation Secretary also mentioned a concern over potential employment loss in the context of vehicle automation growing, as well as promising to help the Federal Aviation Administration develop drone regulation standards "to ensure that drones can be safely integrated into our country's airspace."
Note: Due to the political nature of the discussion regarding this topic, the discussion thread is located in our Politics, Religion, Social Issues forum. All forum members and site visitors are welcome to read and follow the thread, but posting is limited to forum members with at least 100 posts.