Apple Releases Third iOS 10.3 Public Beta to Public Beta Testers
Apple today seeded the third beta of an upcoming iOS 10.3 update to public beta testers for testing purposes, two weeks after seeding the second public beta and one day after providing the third iOS 10.3 beta to developers.
Beta testers who have signed up for Apple's beta testing program will receive the iOS 10.3 beta update over-the-air after installing the proper certificate on their iOS device.
Those who want to be a part of Apple's beta testing program can sign up to participate through the beta testing website, which gives users access to both iOS and macOS Sierra betas. Betas are not stable and include many bugs, so they should be installed on a secondary device.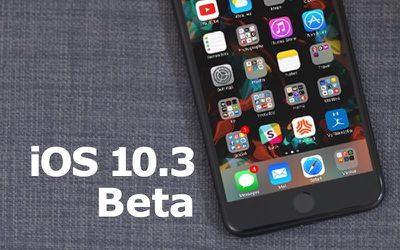 As a major 10.x update, iOS 10.3 introduces a new "Find My AirPods" option to help users locate a lost AirPod. Located in the "Find My Friends" app, the Find My AirPods feature keeps track of the last known location where AirPods were connected to an iOS device via Bluetooth, and it allows the AirPods to play a sound to make finding them nearby easier.
Along with a Find My AirPods feature, the update also includes a shift to Apple File System (APFS). First introduced in 2016, APFS is optimized for Flash/SSD storage and includes strong encryption and other important features.
Apple recommends all users make an iCloud backup before installing iOS 10.3, as the update will cause the iPhone's file system to switch over to Apple File System.
iOS 10.3 also introduces a tweaked app animation, a new Apple ID profile in the Settings app, a better breakdown on how iCloud storage is being used, SiriKit improvements, new iCloud analytics options, Verizon Wi-Fi calling on iCloud devices, 32-bit app alerts, and more. The third beta introduces an "App Compatibility" section in the Settings app, letting users see if they have outdated apps that won't work with future versions of iOS.