Apple Loses Fourth Place to Xiaomi in Booming China Smartphone Market
Apple has fallen to fifth place in China's booming smartphone market, where combined sales reached 131.6 million units in the fourth quarter of 2016, accounting for nearly a third of worldwide shipments. The Q4 figure confirmed the highest ever annual amount of smartphones sold in China, according to market research firm Canalys, with shipments for the year reaching 476.5 million units, rising 11.4 percent from 2015 levels.
Huawei shipments of 76.2 million units took the top spot in China's smartphone market in 2016, followed by Oppo with 73.2 million units and Vivo with 63.2 million. Apple meanwhile shipped 43.8 million units, down 18.2 percent year on year, influencing the company's 7 percent decline in global shipments compared to 2015. Apple also lost fourth place to Xiaomi, despite the Chinese maker also experiencing declines in the country.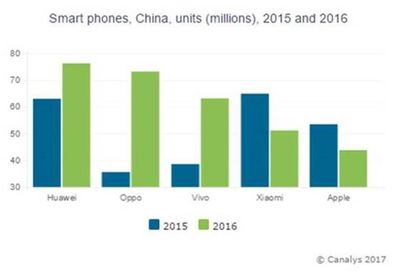 Xiaomi became number four in the China smartphone market, while Apple fell to fifth place. Xiaomi shipped a total of 51.4 million units of smartphones with a 21 percent year-on-year decline, while its market share decreased from 15.2 percent in 2015 to 10.7 percent in 2016, the lowest since 2013. Apple shipped 43.8 million units of iPhones throughout the year, a year-on-year decrease of 18.2 percent.
Huawei's success in China continued apace on the strength of its flagship products, said Canalys research analyst Jessie Ding. "While Apple, Samsung and Xiaomi are all in the process of adjusting their strategies in China, Huawei took the opportunity to consolidate its position in the tier-1 and -2 cities." The lull also allowed Huawei to attack Oppo and Vivo's backyard "in tier-three and tier-four cities," Ding noted.
Last year Apple experienced its first ever year-over-year decline in the Chinese smartphone market, with the company's phones continuing to be outpaced by cheaper alternatives and the iPhone 7 failing to kick up a frenzy among consumers compared to previous launches, according to analysts.
Apple faced a similar story at the beginning of the current year. Despite recording record results, Apple's Q1 2017 earnings call revealed revenue was down 8 percent in China, but CEO Tim Cook claimed half of that decline was down to currency devaluation. Cook said that while China was "not without challenges", he remained "encouraged by improvements" going into the second quarter.
Analysts have previously suggested that Apple's decline in China has been compounded by loyal users taking a year off upgrading in 2016 in anticipation of 2017's "iPhone 8". If so, Apple's success there depends on whether the upcoming phone can live up to the hype.
"China and Hong Kong are still the hardest-hit areas in Apple's global top ten market," according to Ding. "The outlook remains bleak for Apple to get its China performance back to its heyday of 2015. As with consumers in other developed markets, China's consumers are awaiting the 10th anniversary of the iPhone with very high expectations."