The Iconfactory Turns to Kickstarter to Reboot Twitterrific for Mac
The Iconfactory has launched a Kickstarter campaign called "Project Phoenix" in an effort to raise at least $75,000 to reboot Twitterrific for Mac.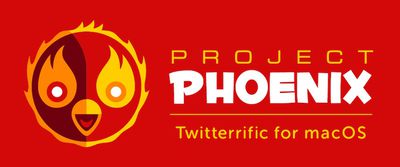 Twitterrific for Mac was the very first Twitter client, but The Iconfactory admitted it has fallen out of date after its team made the tough decision to focus exclusively on development of Twitterrific for iOS since 2013. Now, it has turned to the Apple community to raise funds to build a new Mac app from the ground up.
After much consideration, we decided that the best way forward was to go back to the beginning. Rather than bending the long-neglected Twitterrific for Mac into a new shape, we will borrow what we can from iOS and use it to build a modern new macOS app.

To achieve such a large undertaking in a reasonable timeframe, we'll start small: Our goal is to deliver a minimal Twitter client much like the original Twitterrific for Mac, but with a feature set that fits how we use Twitter in 2017 instead of how we thought we wanted to use it back in 2007.
The Iconfactory said its plan is to build a minimal product within 6 or 7 months that includes the following functionality:
• Unified home timeline
• Multiple account support
• Composing, replying, and quoting tweets
• Muffles and mutes
• Streaming
• Themes
• Delete and edit your own tweets
• Sync timeline position with iOS
• VoiceOver Accessibility
• Keyboard control
• Attaching images to tweets
• Timeline search (text filter/find)
• Open links to other tweets, profiles and media in your browser
In the long run, the developers said they would like to bring Twitterrific for Mac to feature-parity with the iOS version.
The Iconfactory said if it raises over $100,000, it will follow up with another major version that includes features such as direct messaging, built-in Twitter search, and a built-in quick media viewer. At $125,000, it promises to continue adding features such as simple list management and geolocation.
The fundraising goals may seem significant, but Twitter enforced significant changes to its API and tokenization in 2012 that made it harder for third-party Twitter clients to be functional and profitable.
There are multiple pledge levels available on Kickstarter, starting at $15, that will all include a copy of Twitterrific for Mac, which The Iconfactory estimates will be ready by August. Rewards available include Twitterrific t-shirts, stickers, and vinyl collectibles, plus access to beta versions, depending on the amount pledged.
The new Twitterrific for Mac will be distributed outside of the Mac App Store for macOS 10.12.3 and later. As with all Kickstarter projects, there are risks to consider before making a pledge. The Iconfactory notes that Twitter could further restrict its API or enforce other limitations that impede its ability to deliver.
The Twitterrific for Mac team will include engineers Sean Heber and Craig Hockenberry and designers Gedeon Maheux and Anthony Piraino.