Apple CEO Tim Cook received an honorary degree from the University of Glasgow in Scotland today as planned. Cook then sat down for a Q&A session with the audience of students, reflecting on topics ranging from his personal beliefs and influences to U.S. President Donald Trump's recent immigration ban.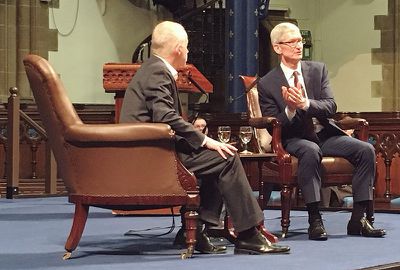 One student asked if he could work at Apple as a tongue-in-cheek question, and Cook noted the company is hiring worldwide and pointed him towards its jobs website. Cook later said "coding should be required in schools," as "kids will never know any other environment other than the digital one."
Cook, responding to a question about Apple's future activism plans, said he does not view Apple or himself as an "activist." Instead, he said Apple simply stands up for things it is deeply knowledgeable or has a strong point of view about.

Cook reiterated that he does not support Trump's recent immigration ban, echoing a
memo he sent to employees
a few weeks ago. Apple was one of several tech companies that
sent a letter to Trump
opposing the executive order, noting "we are a nation made stronger by immigrants."
Apple was also one of nearly 100 companies, including Facebook, Google, Microsoft, Netflix, Snap, Uber, Twitter, and Intel, to jointly file a legal brief backing the original lawsuit brought by Washington state's attorney general that brought a temporary halt to the immigration ban on Friday.
Cook finished by noting that late Apple co-founder Steve Jobs had the biggest influence on his own life by far.
"He took a risk with me when I was 36 years old, and it was sort of that instance, and many instances thereafter, that I recognized that I had been on the wrong path—and that I was sort of rudderless in a way. I met a CEO for the first time that was totally focused on basically one thing: making great products. He had a focus that was unlike any other. His thinking was so pure. He wasn't trying to maximize his wealth or anything else. He really understood the sort of things we work on, and the results that come from those things, and he separated those two."
Cook said Jobs had a clear order in his life that was necessary in order to remain focused: family, Apple, Pixar, and very little else.
Cook remained in Bute Hall following the chat to take photos with students. Earlier in the day, he was spotted at a local Apple Store.
Note: Due to the political nature of the discussion regarding this topic, the discussion thread is located in our Politics, Religion, Social Issues forum. All forum members and site visitors are welcome to read and follow the thread, but posting is limited to forum members with at least 100 posts.