Tim Cook Says 'Exciting Things' Coming to iPad as Tablet Sales Continue to Drop
While the iPhone 7 Plus helped Apple achieve record-breaking earnings results last quarter, iPad sales remained on a downward trend.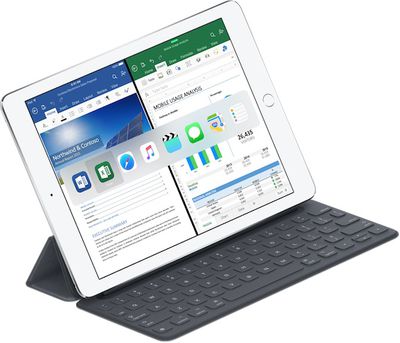 Apple earlier this week reported that it sold 13.1 million iPads in the first quarter, which encompasses the holiday shopping season, down from 16.1 million in the year-ago quarter. As noted by Jason Snell at Six Colors, that's nearly half as many iPads as the 26 million that Apple sold during the same period in 2013.
Apple isn't the only tablet maker suffering from declining sales. The overall category continued to shrink by between 9% and 20% worldwide compared to the same quarter a year ago, placing pressure on Samsung and other vendors, according to the latest estimates from research firms IDC and Strategy Analytics.


Price remains a "key sticking point" for consumers looking to adopt high-end tablets such as the iPad Pro, which has created room for smaller vendors to capitalize on low-priced tablets, according to Strategy Analytics. Lenovo, for example, shipped an estimated 3.7 million tablets and grew 16% year-over-year in the quarter.
"2-in-1 tablets are a hot market segment but price remains a key factor in consumer behaviors around PC and tablet replacement devices, which is evident in lower shipments of iPad Pro and Surface Pro 4 devices in the quarter," said Eric Smith, Senior Analyst at Strategy Analytics.
IDC said the iPad Air 2 and iPad mini, rather than the iPad Pro lineup, continued to account for the majority of Apple's tablet shipments. For every ten slate tablets shipped, Apple sold only one iPad Pro, the research firm said. Apple does not officially break out iPad sales on a model-by-model basis.
Apple said it underestimated holiday demand for the iPad quarter, and that compounded a supply issue with one of its suppliers. Apple also drew down channel inventory by 700,000 units, so its results are not as bad as they look. Last year, Apple increased channel inventory by 900,000 units as the iPad Pro launched.
Apple also said the iPad has an 85% share of the U.S. tablet market priced above $200, so the tablet is doing exceptionally well in the premium segment that the company has targeted. iPad also undoubtedly remains the world's best-selling tablet, with a comfortable lead over its rivals, based on industry estimates.
Samsung was Apple's closest competitor with an estimated 8.1 million tablets shipped in the quarter for 12.8% market share, according to Strategy Analytics. Amazon, Lenovo, and Huawei rounded off the top five with an estimated 4.2 million, 3.7 million, and 3.4 million shipments in the quarter respectively.


As always, it is important to acknowledge that these are estimated figures, and that shipments do not necessarily reflect sales. There are also significant discrepancies between the IDC and Strategy Analytics datasets—particularly as it relates to Amazon—so treat the numbers with a proverbial grain of salt.
Apple has effectively marketed the iPad Pro as a computer in the post-PC world, but the company's second annual decline in iPad sales led Apple podcaster Marco Arment to raise an interesting question: what if the iPad isn't the future of computing?
What if, like so much in technology, it's mostly just additive, rather than largely replacing PCs and Macs, and furthermore had a cooling-fad effect as initial enthusiasm wore off and customers came to this conclusion?
One thing is for certain: consumers are not upgrading their tablets nearly as often as smartphones. In order to reignite iPad sales, Apple will have to add compelling new features that entice the large base of existing iPad owners to swap out their current "good enough" tablet for a new one.
"We've got some exciting things coming on iPad and I'm optimistic about where things are headed," said Apple CEO Tim Cook. "Customer satisfaction is through the roof. iPad Pro at 99%. So I see a lot of good things and hope for better results."
Update: Strategy Analytics notified us that it made an error in its chart. The original graphic transposed the names of the 3-5 ranked vendors incorrectly. The chart above has the correct rankings. This article has been updated accordingly where necessary based on the adjusted information.