Apple's Logic Pro X for Mac and GarageBand for iOS Receive Major Updates
Apple today announced major updates for music creation software GarageBand and professional editing software Logic Pro X, introducing a number of new features for its music-related apps.
GarageBand version 2.2 for iOS devices includes the Alchemy creative synthesizer that was added to Logic Pro X in 2015, along with a new sound browser to make it easier for users to find instruments and specific sounds.
Alchemy includes more than 150 Apple-designed patches from a variety of genres ranging from EDM and Hip Hop to Rock and Pop. Using Alchemy's Transform Pad, GarageBand users can now create "expressive synth performances."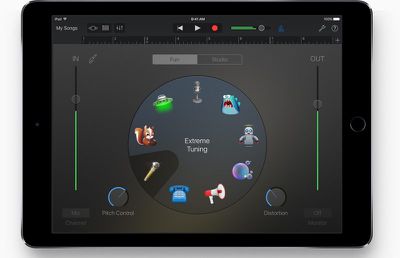 A redesigned Audio Recorder lets users add one-tap vocal effects to recordings and use features like pitch correction, distortion, and delay, while an interactive graphic Visual EQ and other advanced audio processing tools have been added for professional users.
Logic Pro X for Mac has been updated to version 10.3, introducing new features, a refreshed interface, and Touch Bar support, allowing the Touch Bar on the 2016 MacBook Pro to be used for music editing. The Touch Bar features quick access to navigation tools and Smart Controls, plus it can be used for playing and recording instruments using a piano keyboard or drum pads.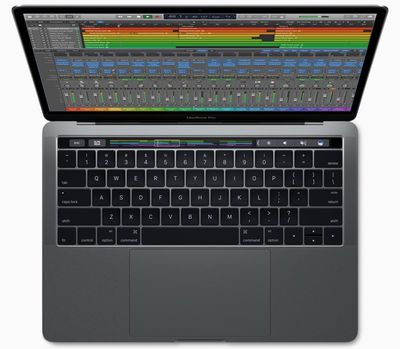 A new Track Alternatives feature lets users create and switch between different playlists of regions and edits, and Selection-based Processing lets users apply Logic or third-party plug-ins onto one or more audio region.
With iOS integration, Logic Pro X users can also add new tracks to Logic sessions from their iPhone or their iPad when away from their Mac, and a new share option lets users upload GarageBand-compatible versions of Logic projects to iCloud that can be opened on iOS devices. New recordings can be added via GarageBand on an iOS device and then synced back to Logic Pro X when the project is opened on a Mac.
"Music has always been part of Apple's DNA, and we are excited to deliver yet another fun and powerful update to our music creation apps, GarageBand for iOS and Logic Pro X," said Susan Prescott, Apple's vice president of Applications Product Marketing. "These updates bring a wide range of new and highly requested features to both hobbyists and the community of pro musicians and audio engineers who rely on our software and hardware to create amazing music."
GarageBand for iOS is provided for free to customers who purchase a new iOS device, but it's also available from the iOS App Store for $4.99. [Direct Link]
GarageBand is provided for free to customers who purchase a new Mac, but can also be purchased from the Mac App Store for $4.99. [Direct Link]
Logic Pro X is available for purchase from the Mac App Store for $199.99. [Direct Link]