Linksys today announced a modular Wi-Fi system called "Velop," which boosts internet coverage throughout any style of home thanks to its multi-unit set-up, similar to products like Google Wi-Fi and Eero (via The Verge). Linksys said that Velop can be set up in just minutes and delivers some of the fastest and most reliable Wi-Fi in the multi-unit router market.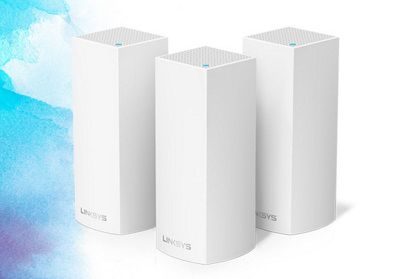 Like similar products, Velop's advantage lies in its ability to be placed situationally around a home to create a steady blanket of internet coverage with no dead spots, even in oddly shaped houses. The company said that Velop "outperforms traditional routers and range extenders" because it doesn't degrade as users move farther away from the router.
Velop is also a tri-band system, meaning that one of its three Wi-Fi radios is constantly dedicated to communication between each router to ensure there's no speed drop off at any point in the connection. The "100% Wi-Fi mesh network signal" means that users get constant, seamless Wi-Fi with no buffering or lag.

A Velop modular Wi‑Fi mesh system outperforms traditional routers and range extenders giving you 100% seamless Wi‑Fi without lag or buffering. With other Wi‑Fi, the signal degrades as you move farther away from the router, leaving you susceptible to dropped connections. Velop gives you full-strength Wi‑Fi everywhere.

Feel free to video stream while the kids are gaming online. Velop's Tri-Band technology dynamically changes to ensure and deliver blazing fast, seamless Wi‑Fi to all devices for the ultimate in Wi‑Fi freedom.
A connected Linksys app also makes it easy for users to manage their Wi-Fi from afar, including parental control settings, device prioritization to ensure extra-solid internet for streaming to an Apple TV for example, speed tests, and various other settings. Velop works with Amazon Alexa as well, so users can interact with the router system with their voice.


Velop goes on sale today at a steeper price in comparison to other multi-unit routers: it runs for $499.99 for a 3-pack, $349.99 for a 2-pack, and $199.99 for one Velop router.