After first testing out a new update to the Photos web app on the iCloud beta website earlier this month, Apple has now rolled out the update to all users (via Mac Generation). The overhaul to the app on iCloud.com introduces a macOS-like Photos experience with a sidebar that can be toggled on and off, and a scrollable thumbnail view of every photo in an album at the bottom of the site when looking at individual pictures.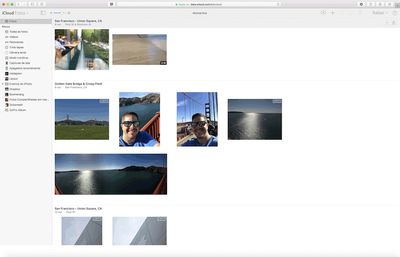 Previously, Photos on iCloud.com placed albums in a tab bar at the top of the site, so the update makes it easier to navigate multiple albums at once. To top off the navigation tweaks, there are also four action buttons in the top right corner of the web app for uploading, adding, downloading, sharing, and deleting albums and photos.
The Photos web app on iCloud.com is still lacking macOS and iOS features like editing, shared albums, memories, and people, which uses facial recognition to organize your photos on Mac and iPhone. Users can head over to iCloud.com to check out the new Photos update on the site.