Apple has updated the iCloud beta website with a new Photos section that includes improved navigation tools similar to the native Photos app on macOS Sierra. As discovered by MacMagazine [Google Translate], the Photos section in the beta site now includes a sidebar for navigation, which displays all of a user's albums so it's easier to jump between photo collections.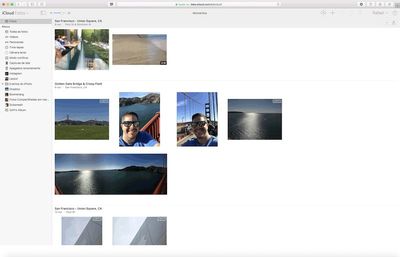 In the current iteration of iCloud.com albums are found in a tab bar at the top of the Photos part of the website, next to a user's moments. With the update, users are also able to choose multiple photos from the new album select toolbar "and use the action buttons in the upper right corner to add, share, download, or remove albums."
Within each album, when a specific photo is clicked on, users will be presented with a scrollable thumbnail view of the entire album's contents, providing further ease of navigating through large photo collections.
The iCloud.com updates are strictly navigational improvements, with no addition of the new macOS Sierra Photos features like Faces and Memories. It's unclear how long it will take for the new changes to launch on a broader scale after debuting on the iCloud.com beta site.