First AirPods Orders Begin Arriving in Australia and New Zealand as Apple Stores Begin Sales
It's Monday morning in New Zealand and Australia, which means the first customers who placed orders for Apple's new AirPods have begun receiving them according to reports from MacRumors readers.
Deliveries are taking place across the two countries now, and Apple retail stores in Australia have also begun selling AirPods to customers.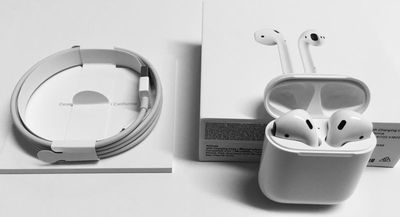 AirPods that belong to MacRumors reader Sacha in New Zealand
In Australia, people who were hoping to get AirPods in store
lined up early
ahead of store openings, and as expected, supplies have been somewhat limited. At some stores, only a handful of AirPods were available, while others appear to have gotten more stock.
Customers who have received their AirPods are so far pleased with them. MacRumors reader Jason was impressed with how easy they were to sync and the sound quality. We'll have more first impressions a bit later as more customers receive their orders.

Impressed with the ease to sync and setup the AirPods with my iPhone. Nice.

The sound is a lot better than I had anticipated. It can go very loud. Overall, after testing for only 15 minutes or so, sound is a bit better than the EarPods I received with my iPhone 7 Plus, which I mostly pretty impressed with.

And they fit extremely well into my ear - really don't feel like they will fall out. Very snug!
Based on early information coming from Australia, customers in Asia, the United Kingdom, and the United States will likely want to get to Apple retail locations before they open for the best shot at getting a set on launch day.
Apple has said retail stores will receive regular stock going forward, and third-party retailers like Best Buy are also going to be receiving AirPods stock starting tomorrow.
AirPods orders in other countries will begin arriving as Monday morning arrives. For customers who were not able to pre-order, purchasing AirPods in the store will be the only way to get them before January, as orders placed today will not ship out for six weeks in many countries.