New Photos Offer an Inside Look at Apple Campus 2
Apple shared some updated photos and information on its spaceship-shaped second campus with employees, which French site MacGeneration managed to get a hold of. The photos give a detailed view of the exterior building, and give us one of our first glimpses at its interior.
Apple Campus 2 has been in development for more than two years, and is nearing its completion date. We've seen a series of monthly drone videos cataloguing progress at the site, and as of December, much of the main ring-shaped building is finished, with Apple now working on landscaping.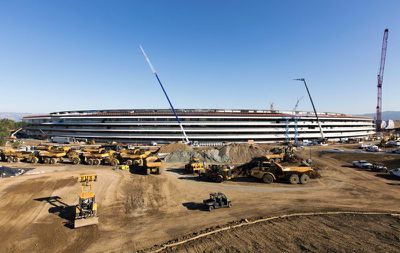 Just recently, Apple installed the glass panels for the atrium of the main building, which will be used as a cafeteria for employees. Along with the cafeteria, there will be vast outdoor eating spaces covered with greenery native to California.


The floor-to-ceiling doors of the atrium are each made from 10 glass pieces and are similar to the giant glass doors that were introduced in Apple's San Francisco Apple Store. The doors open an entire side of the building to let in light and air for an outdoor feel.
To install the doors, Apple has used cranes outfitted with suction cups to hold the glass in place while it's secured into the building.


The ceiling of the ring-shaped building is equipped with a series of skylights that will let in natural light, while cutouts in marble walls will house speakers in some areas. Close attention has been paid to the smallest of details, and Apple says in just one access tunnel, it's taken 60 workers five months to lay small tiles on the curved walls. Ledges extending out over windows block light, as do built-in window shades.


Outside, full-sized trees and other plants are being installed. Ahead of being added to the campus, many of the trees were grown at a local nursery. Apple has said more than 3,000 species of trees will be on the campus, including many fruit trees.


Apple plans to finish construction on the campus in the first quarter of 2017, though landscaping work will extend into the second quarter of the year. Apple CEO Tim Cook has said employees will begin working at the campus in early 2017.