Teardown Reveals New MacBook Pro Without Touch Bar Has Removable SSD
The new entry-level 13-inch MacBook Pro without a Touch Bar has only been available for a day and just made its way into Apple retail stores, but OWC has already managed to take apart one of the machines to get a glimpse inside.
The teardown is still underway, but OWC can confirm that the new MacBook Pro has a removable SSD, meaning it is replaceable and can potentially be upgraded after purchase. Previous MacBook Pro models have also featured a removable SSD, but the MacBook SSD is soldered to the logic board, so it was unclear if the new MacBook Pro would continue to offer a removable SSD due to its thinner body.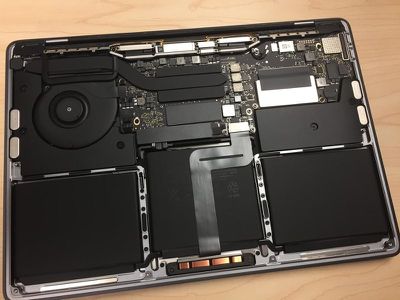 OWC has noted a number of other observations about the new MacBook Pro:
- Solid State Drive module is removable
- Bottom was more difficult to remove than previous generations, but it was not glued
- Speaker module needs to be removed to pull SSD back
- SSD had very strong tape covering the interface port
- Laptop automatically turns on when you open it regardless of pressing power button
OWC's discoveries only apply to the 13-inch MacBook Pro without a Touch Bar. It's likely models with a Touch Bar have a similar build, but the internal hardware is different because it incorporates a new component. We'll need to wait a few more weeks to see what's inside the higher-end 13 and 15-inch MacBook Pro machines, as they won't be available until mid-November.