Apple Highlights Mac Apps Updated With Support for MacBook Pro Touch Bar
As the new MacBook Pro models with Touch Bar begin arriving to customers, Apple has updated the Mac App Store with a featured section highlighting a selection of Mac apps that have been updated with Touch Bar support.
Apple's list includes 14 apps that now work with the Touch Bar, like Day One, OmniGraffle 7, PocketCAS, Mail Designer Pro 3, Focus, and 1Password. Some of the apps, like Final Cut Pro and djay Pro, were previously shown off by Apple on stage when the MacBook Pro was announced.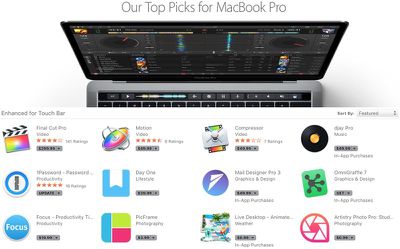 The scope of Touch Bar support varies by app, but in many apps, once-buried settings and frequently used shortcuts are now available in the Touch Bar, allowing users to speed up their workflows. In djay Pro, for example, the Touch Bar can be used for full music manipulation, while in 1Password, it offers options for quickly adding or finding passwords.
One of the chief complaints in MacBook Pro reviews released today was the lack of support by third-party apps, but that should soon improve as developers finish updating their apps with Touch Bar compatibility.
Many apps, including popular titles like Pixelmator, Photoshop, Affinity Design, and Microsoft Office, will be introducing Touch Bar support in the coming weeks.