iPhone SE Unlikely to Receive Refresh in Early 2017
Apple will not refresh the iPhone SE in the first half of 2017, according to KGI Securities analyst Ming-Chi Kuo. The lack of refresh comes as Apple attempts to maintain high margins on its high-end iPhone models, Kuo said in a new research note.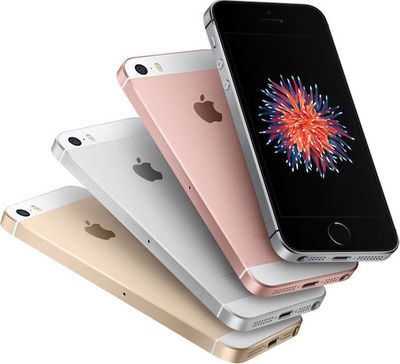 Kuo forecasts that total shipment volume of iPhones will decline in the first half of 2017 due to tepid demand in China, slow shipment volume of 4.7-inch iPhones and the lack of an iPhone SE refresh in the second quarter of the year. Kuo argues that shipment volume came in higher in the first half of 2016 due to "upbeat demand for the iPhone SE."
Instead, Kuo believes Apple will exert pressure on its iPhone component makers to drop prices in an effort to maintain its margins. He expects suppliers to begin price reductions on components in either November or December of this year.
However, Kuo notes that not all suppliers will cut prices. Most iPhone component makers, like those that make the device's panels, have weak bargaining positions with Apple due to fierce competition amongst suppliers. Some suppliers, like Samsung, are the main supplier of certain components for iPhones and have stronger bargaining positions than Apple. Kuo believes Samsung may even raise its prices. And finally, Kuo says there are a few suppliers like TSMC that are unlikely to be affected by Apple's attempt to maintain its margins.
Overall, Kuo forecasts that iPhone shipment volume will drop year-over-year in the second quarter of 2017, sitting between 35 to 40 million, less than last year's 40.4 million in the second quarter of 2016.
Apple introduced the iPhone SE in March 2016, packing in many of the iPhone 6s' features and component into a 4-inch frame similar to that of the iPhone 5s. It's unclear what kind of upgrade schedule Apple will adopt for the device, but it's internals are powerful enough to remain a capable phone for a couple of years.