Kohl's Will Begin Selling Apple Watch at 400 Locations Across U.S. Later This Month
Kohl's will begin selling the Apple Watch at 400 of its 1,100 stores across the United States on November 15 as a way to boost its activewear business (via Fortune). Apple's partnership with the retail chain is said to help the Cupertino company reach into areas of the country that don't have Apple Stores or official Apple resellers with Apple Watches, as well as "reach a more modest-income shopper and a wider-ranging clientele."
In total, Kohl's locations will stock 10 different Apple Watch models, but the company didn't go into specifics about which. In the retailer's Black Friday ad, the Apple Watch Series 2 in Space Gray with Black Sport band and Series 1 in Rose Gold with Pink Sand Sport Band are both advertised.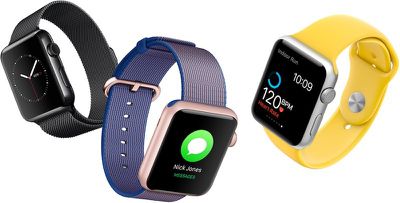 Within the store itself, the Apple Watches will be displayed on stands that measure four feet tall, and the Kohl's staff will be educated on the devices to help customers in purchasing an Apple Watch, which Kohl's sees less like an electronic device and more "as an active and wellness device."

"We're not launching it as an electronics partner," Michelle Gass, Kohl's chief merchandising and customer officer, told Fortune in an exclusive interview at the retailer's design center in New York City. "We were positioning this as an active and wellness device."
On Black Friday, customers will be able to receive Kohl's Cash when purchasing an Apple Watch: $105 for a Series 2 and $75 for a Series 1. The retailer hopes that its introduction of the Apple Watch goes over as well as its profits for selling FitBit devices, which is now "a $100-million-a-year business" for Kohl's.
In September, Macy's announced that it would be the first United States department store to begin selling Apple Watch when the device launched that month. The new Kohl's deal of 400 retail locations is much larger than Macy's, which began selling Apple Watch in 180 of its stores in September.