Second and Third-Generation Apple TV Models Not Working for Some Users
Some second and third-generation Apple TV owners have started experiencing a mysterious bug over the last few days, which seems to have essentially disabled the device for a number of users. Affected Apple TV models are only able to display Computers, Music, and Settings, with no other channel options available.
Customers who are seeing the issue have had all of their menu options suddenly disappear, leaving them unable to watch Netflix, Hulu, and other Apple TV channels.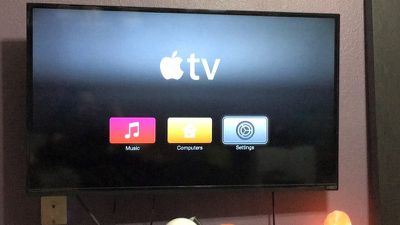 This seems to be a bug that's been around for awhile, but has become more prevalent over the last day or two. MacRumors has received several complaints via email, and there are threads outlining the problem both on our forums and on Reddit.
Restarting the Apple TV, resetting a router, and resetting the Apple TV don't seem to work. A region change offers a temporary solution, but ultimately, the channels disappear again for many users. Some users have partially fixed the issue by changing DNS settings, but this doesn't work for all users. A MacRumors reader describes the problem:
All I see is a computer and settings option. In the settings option I have access to everything except the main menu setting. There's absolutely nothing in there as an option. I've restarted my Apple TV as well as my AirPort Extreme. I've reset the Apple TV and I inserted all the info back in like my iCloud acct etc. it obviously is logging onto the Internet since I was able to connect my iCloud account. One other strange thing is that my iTunes won't recognize the Apple TV when I plug it in directly to my Mac mini via a USB cable. It just doesn't show up. What the heck happened? Apple do you have an explanation for this one?
Not all Apple TV users are affected by the issue, but it appears to be fairly widespread. Only the Apple TV 2 and 3 are impacted -- the fourth-generation Apple TV is functioning fine.
Apple's support staff told a Reddit user that a fix was in the works, and to expect a software update in the near future. A MacRumors reader received similar information, with Apple suggesting a fix would be pushed within the next few hours.