Adobe's MAX creativity and design conference is set to kick off this morning, and during the MAX event, Adobe plans to show off several upcoming software updates and new software experiences that are coming to its product lineup later this year.
All of Adobe's Creative Cloud apps are being updated with new features. Photoshop, for example, is gaining a new universal search bar with visual search options, stock templates, tighter integration of SVG elements, and better support for SVG color fonts, while Illustrator is gaining font, text, and glyph enhancements along with new alignment tools for creating pixel-based artwork.
Adobe Experience Design CC (XD), Adobe's tool for designing and prototyping, is gaining support for layers and symbols, along with the ability for users to comment on shared designs, making it easier to get feedback from clients. During the first half of 2017, XD will also support real-time sharing and collaboration features along with visual versioning to make it easier to keep track of changes.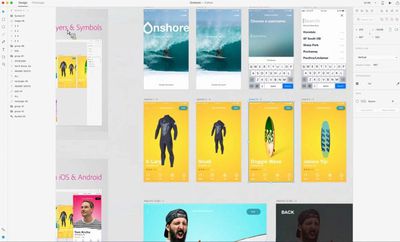 After Effects features a new 3D rendering engine that can render 3D elements up to 20x faster, while Premiere Pro is gaining new virtual reality capabilities and optimized video publishing for social networks. The new software is able to auto detect virtual reality video, applying the proper settings. Character Animator is getting faster puppet creation and animation that better integrates with Photoshop and Illustrator. Team and Enterprise users will soon be able to co-edit video files in Premiere Pro, After Effects, and Prelude with updated workflows.
Mobile apps are also being updated. Photoshop brushes will be able to be used in Sketch, and both Sketch and Draw will gain layer blend modes. Comp, meanwhile, will gain auto mockups and the ability to copy/paste within and across documents.
Project Felix, being unveiled at MAX, is an upcoming tool that allows graphic designers to make high-quality photo-realistic images using 2D and 3D assets, even without experience using 3D software. Project Felix includes 3D models, materials, and lights sourced from Adobe Stock, and there are options do to things like adjust camera angles and lighting to make the perfect product shot.


Adobe Spark, available today as a free service, is designed to allow Adobe Creative Cloud users to create social graphics, web stories, and animated videos. Spark is available to everyone, but paid members will have exclusive features, including the ability to remove Adobe branding from projects.
Adobe is officially bringing its Adobe Stock Contributor site out of beta, allowing Adobe users to sell their photographs and design work to other Adobe users. Adobe Stock is gaining an improved image search feature and a new auto-keyword option that makes it easier to find what you're looking for.


Adobe is also announcing a new partnership with Reuters, incorporating Reuters video and photography of news, sports, and entertainment events, and it is introducing a new way to purchase fonts through the Adobe Typekit marketplace.
Adobe's Creative Cloud updates will be available to Creative Cloud subscribers before the end of the year. For more details on the upcoming features that will be available in Adobe's range of Creative Cloud apps, make sure to check out Adobe.com.