Existing Apps That Added Support for Messages Saw 'Profound' Growth in iOS 10
After reporting a few weeks ago that the Messages App Store has grown to 1,650 applications, 75 percent of them sticker packs, Sensor Tower recently published another report detailing the download growth statistics for pre-existing apps that introduced Messages support in iOS 10. According to the research firm, the advantages of being an original presence in the Messages App Store during launch week had a "profound" effect on the surge of downloads for each app.
Sticker-making app JibJab sits firmly atop the pile of apps looked at by Sensor Tower. Originally introduced in 2014, Apple advertised the app's new Messages-ready compatibility in the Messages App Store during iOS 10's launch, and JibJab subsequently saw a download growth of more than 1,500 percent the week of September 12, 2016, which Sensor Tower compared to two weeks prior, August 29, as a statistical baseline.
The data accrued throughout the study uses the same parameters for each app. It should also be noted that Sensor Tower's measurements only took into account well-established apps that received more than 50,000 downloads for August and September, 2016.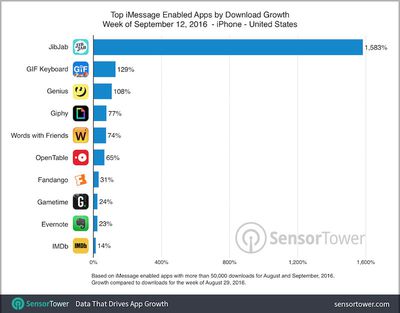 As you can see, the animated-sticker-making app JibJab, which has been available on the App Store since 2014, witnessed tremendous download growth of more than 1,500 percent for the week of September 12, 2016, compared to our baseline, the week of August 29, 2016. As one of the very first apps to debut on the iMessage App Store, JibJab also benefitted from featuring by Apple within the in-app storefront.

Being a first mover on the iMessage Apps platform has clearly paid off for these apps.
A few other apps that have introduced Messages support saw notable growth, just not as intense as JibJab's performance. GIF Keyboard took second place, with a 129 percent increase in downloads during iOS 10's launch week. Tenor's app has also been around since 2014, but with the advent of Messages apps users no longer have to allow the company access to their keyboard and laboriously copy/paste each gif into a message.
The top five was rounded out by song-sharing app Genius (108 percent increase), GIF search service Giphy (77 percent increase), and App Store gaming mainstay Words With Friends (74 percent increase).
Words With Friends is the only game in Sensor Tower's top ten list, which is mostly made up of social interactive experiences. The data also shows the effect Messages-enabled apps have had for non-social add-ons as well, including apps that streamline previously cumbersome activities, like deciding on a restaurant with friends in OpenTable (65 percent increase), and picking a movie showtime in Fandango (31 percent increase).
New apps add support for Messages nearly every day, but sticker packs remain the most popular app type in Apple's new Messages App Store. Of the more than 1,650 applications on the App Store for Messages (when originally reported), sticker packs made up 1,251 apps, 944 of which are paid versus 307 that are free.