UPS Shows Some iPhone 7 Shipments Bouncing Back and Forth Between U.S. and Asia
An increasing number of customers who ordered the iPhone 7 or iPhone 7 Plus have noticed irregular movement on their shipments, as confirmed by multiple tipsters who have contacted us. The peculiar UPS tracking information has also been documented by several Twitter and Reddit users.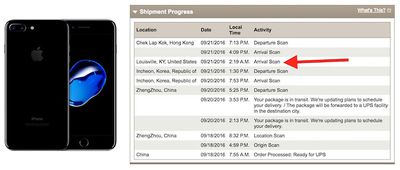 MacRumors reader Daniel G., for example, has seemingly seen his iPhone 7 Plus order move between Shanghai, China and Anchorage, Alaska, only to end up back in China. The shipment even made a brief stop in Osaka, Japan, before heading to Louisville, Kentucky en route to Long Island City in Queens.
My iPhone got stuck in China, was sent to Alaska, sent back to China, and is now in Japan. I called Apple and they noted I am one of several who has called about this issue. I placed my order on September 11th. Original shipping estimate said the 27th to the 29th. This was soon changed to September 19th, and then 20th. Once it was delayed, it said shipping date unknown. Apple said they would look into it and call me back.
Other MacRumors readers said likewise in discussion topics titled "My iPhone is on a travel adventure" and "Waiting for UPS."
Reddit user AlphaAnger, too, shared a nearly identical scenario:
I preordered the iPhone 7 from the Apple website and it shipped out at the beginning of the week. Anyone else's iPhone just taking a tour of China and Korea? My UPS says it just keeps going back and forth between Korea and China with no estimated ship date.
Twitter user Minton, who shared the UPS tracking information pictured above, has seen his iPhone order travel from Zhengzhou, China to Incheon, South Korea to Louisville, Kentucky, at which point it was seemingly sent back to Hong Kong. The entire movement took place within a span of just three days.
Minton is not alone, as several Twitter users have noticed similarly irregular movement on their iPhone orders this week.
According to UPS, the iPhone I ordered keeps flying back and forth between Zhengzhou, China, and Icheon, South Korea. Seems inefficient. pic.twitter.com/r7PaDlZwga — Harry McCracken (@harrymccracken) September 21, 2016
My iPhone 7 travel adventure courtesy of @UPS: China > South Korea > Kentucky > Hong Kong > Alaska > .... — Charlie K. (@callmesailor) September 21, 2016
In some cases, shipments have moved between the U.S. and Asia in only a few hours, which is unrealistic even when accounting for time zone differences. UPS has allegedly told some customers the irregular movement is related to paperwork, but weather and mechanical issues could also be involved.
Whatever the underlying reason may be, the issue appears to be slowing down iPhone deliveries for at least some customers in the United States. Some customers on Twitter have complained that their new iPhone is "stuck in Korea," while others have vented their frustrations towards UPS's customer service account.