iPhone 7 Lines Start Growing Ahead of Friday's Launch
With just two days to go until the official launch of the iPhone 7, customers who are hoping to get their hands on one of Apple's devices have started lining up outside of Apple retail locations around the world.
At the 5th Avenue Apple Store in New York, one of Apple's flagship locations, people have been waiting in line for days, saving spots with folding chairs and small one-person tents. Other stores in New York also have short lines at this time, based on photos sent in by MacRumors readers.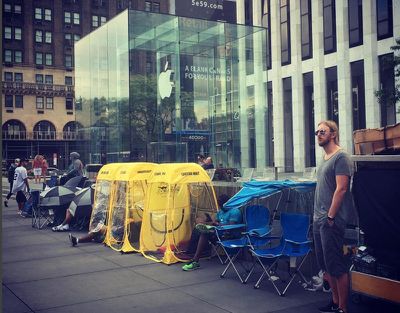 At Apple's new San Francisco location, Apple Union Square, a handful of people are already waiting outside for an iPhone 7. People started lining up over the weekend.

At the Summerlin Apple Store in Las Vegas, MacStadium's Brian Stucki
set up a webcam
to monitor the crowd situation. No one is waiting in line yet, but it should be a fun way to watch how activity progresses over the course of the rest of the week.
Shipping estimates on some of the most popular Black and Jet Black iPhone 7 and 7 Plus models range into several weeks and last until November in some cases, so waiting in line on launch day is the only way to get one of the highly coveted devices if you missed out on pre-orders.
The iPhone 7 and 7 Plus launch on Friday, September 16, and will debut first in Australia. It's Thursday morning in the country, so there's just a day to go until people start getting their hands on devices and sharing videos, pictures, and first impressions.