Apple Pay on the Web Starts Rolling Out Following iOS 10 Release
iOS 10 includes support for Apple Pay on the web, allowing users to make purchases from websites using Apple's payment service and Touch ID fingerprint authentication. Now that iOS 10 is available to the public, websites have started rolling out support for the Apple Pay on the web feature.
Time Inc. today announced that its customers are now able to use Apple Pay to purchase subscriptions for its line of magazines, including Sports Illustrated, People, Entertainment Weekly, and Real Simple.
Last week, online retailer Wayfair announced support for Apple Pay on the web, giving shoppers an option to pay for furniture and home décor products through Apple Pay. Apple, of course, is accepting Apple Pay on its website too.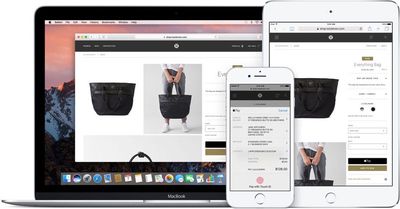 Backend payment services including Big Commerce, Shopify, Stripe, and Squarespace have all announced support for Apple Pay on the web, giving smaller merchants an easy way to accept Apple Pay payments for purchases.
In the coming weeks, we should see Apple Pay rolling out to many websites, giving customers an alternative to existing payment services like PayPal. With Apple Pay, purchases can be made with a single touch, and there's no need to enter credit card or shipping details. Apple Pay is also secure, keeping card numbers and other personal information out of the hands of vendors.
When macOS Sierra is released to the public next Tuesday, Apple Pay on the web will also be available on the Mac. As with Apple Pay on the iPhone, purchases will be authenticated through a connection with an iPhone 6 or later or an authenticated Apple Watch.
According to Apple, macOS Sierra's Apple Pay on the web feature will be available to all customers who have a Handoff-enabled Mac that is able to run the Sierra operating system.
On mobile devices, Apple Pay on the web is available on the iPhone 6 and later, the iPad Pro, the iPad Air 2, and the iPad mini 3 and later.