iOS 10 Over-the-Air Update Bricking Some iPhones and iPads [Update: Fixed]
The new iOS 10 update, released today, appears to be causing problems for some iPad and iPhone owners who are installing it over-the-air. On the MacRumors forums, we're seeing multiple reports from users who have attempted to install iOS 10 and have had their devices put into recovery mode, requiring a restore.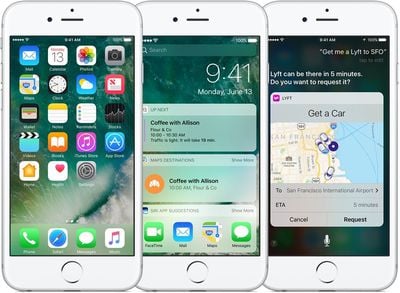 It does not seem to be limited to a single device, but most reports from iPad owners are coming from those who have the 9.7-inch iPad Pro, which has had trouble with new software releases in the past. Multiple iPhone models also appear to be affected, including the iPhone 6s, iPhone 6, and iPhone SE. From MacRumors forum member bit_bucket:
What the actual heck. iPhone just bricked itself as well. That makes 2 devices screwed up by the OTA update and I have to try and restore to the older version now. I do not jailbreak and I did not preinstall the update. Just installed for the first time now. Come on apple. Appears since I hit update right after it hit the servers, I somehow got a corrupt install.

Anyone else having these issues?
Users who have their iOS 10 devices bricked by the update may need to do an iTunes restore if the update fails, which will erase all data. Some users have had their iPhones updated successfully through iTunes after the over-the-air update has failed and haven't needed to restore, but it has not been successful for other users. Here's the message users are receiving:
There is a problem with the iPhone "iPhone" that requires it to be updated or restored.

The problem may be fixed by updating your iPhone, which preserves your settings and content. However, if updating doesn't work, it may be necessary to click Restore, which erases all settings and content. If you backed up this iPhone to this computer or iCloud, you'll be prompted to restore the backup onto the iPhone.
In light of the installation issues some users are facing, those who are concerned about their devices being sent into recovery mode and bricked should hold off on downloading the iOS 10 update over the air for the time being until more information can be uncovered.
It appears iOS 10 installs through iTunes are not affected, so that remains a viable method for obtaining the iOS 10 update today. Ahead of installing iOS 10, either over the air or through iTunes, a backup should be made.
Update: Apple has given a statement on the issue that caused the iOS 10 update to fail over the air, and says it has now been fixed.
"We experienced a brief issue with the software update process, affecting a small number of users during the first hour of availability. The problem was quickly resolved and we apologize to those customers. Anyone who was affected should connect to iTunes to complete the update or contact AppleCare for help.