iPhone 7 to Include Five Colors, IPX7 Water Resistance, Dual 12MP Cameras on Plus Model
KGI Securities analyst Ming-Chi Kuo, who has a very solid track record when it comes to Apple product rumors, has released his most detailed research report yet ahead of Wednesday's iPhone 7 launch. The report recaps a number of claims previously shared by Kuo and others while also introducing several new tidbits about the device.
Kuo notes that there are many upgrades and other changes with the iPhone 7, but because the overall design is similar to the iPhone 6s, "general users may not feel the differences significantly." Details on the iPhone 7 include:
- New A10 chip from TSMC that could top out at 2.4-2.45 GHz, although Apple may clock it a bit lower due to heat and power consumption concerns.
- Storage capacities of 32 GB, 128 GB, and 256 GB on both the iPhone 7 and iPhone 7 Plus. The iPhone 7 Plus will include 3 GB of DRAM to support the dual-lens camera, while the iPhone 7 will continue to include 2 GB.
- Five color options including the usual silver, gold, and rose gold, along with a "dark black" replacing the usual Space Gray. A new fifth color Kuo describes as glossy "piano black" will also be offered. A photo of SIM trays in those five colors surfaced earlier this week.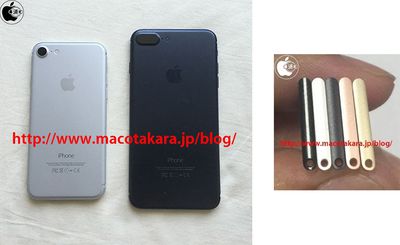 We expect the iPhone 7 to come in piano black, dark black, rose gold, gold and silver. Only the piano black model will have a glossy finish. Given high production barriers, large-storage models may have first priority in adopting piano black casing in the initial stage.
- Improved IPX7 water resistance matching that of the original Apple Watch and making the device suitable for splashes, showering, and even brief dips in water up to one meter deep.
- No headphone jack, with Apple providing both Lightning EarPods and a Lightning to 3.5 mm jack adapter in the box. Removal of the headphone jack will allow for an upgraded speaker and a new sensor for improved Force Touch.


- Earpiece receiver to become a speaker with the addition of a new audio amplifier. Rather than putting a second speaker at the bottom in place of the headphone jack, Apple is said to be upgrading the earpiece receiver at the top of the device to become a full speaker. The change would provide enough separation to allow for stereo sound when the device is held in landscape orientation.
- Pressure-sensitive click-less home button to benefit water resistance. New haptics to mimic a clicking sensation when the button is pressed will be included.
- Wide color displays in the same sizes and resolutions as the current iPhone 6s and 6s Plus. The wide color technology adopted from the 9.7-inch iPad Pro will offer better color quality.
- Dual-lens rear camera on the iPhone 7 Plus, which will increase Apple's costs by about $40 and could make the iPhone 7 Plus more expensive than the iPhone 6s Plus. Both lenses will be 12-megapixel, but one will be a wide-angle camera with larger pixel sizes, a 6P lens, and optical image stabilization, while the second will be a telephoto lens with smaller pixel sizes and a 5P lens.


- Upgraded rear camera flash with four LEDs (two cool and two warm) and a new ambient light sensor for better image quality.
- Possible upgraded proximity sensor shifting from LED to laser for faster response and greater recognition distance, as well as potential gesture recognition.
- FeliCa NFC support in models sold in Japan, as had been previously rumored for either the iPhone 7 or the 2017 iPhone.
Overall, Kuo believes iPhone 7 shipments will be below that of the iPhone 6s through the end of the year, coming in at 60-65 million compared to 82 million last year. Kuo reports that Apple's water resistance requirements resulted in low assembly yields that pushed back the start of mass production until the second half of August.
Make sure to check out our "What to Expect" post for a recap on other announcements expected at Wednesday's event and stay tuned to MacRumors for other last-minute news and rumors. On the event day, we'll have full live coverage here on MacRumors.com and through our MacRumorsLive Twitter account, starting at 10:00 AM Pacific Time.