For the next few weeks, MacRumors is running a special giveaway event, which will see us highlighting and giving away high-quality luxury bags from manufacturers like Pad & Quill, Intrepid Bag Co, Whipping Post, and Saddleback Leather Company. We've got all of these bags on hand so we can give clear details on construction, quality, utility, and more.
For today's giveaway, we've partnered with Saddleback Leather Company to give away one of the company's medium-sized Thin Front Pocket Briefcases made from a rich tobacco-colored leather.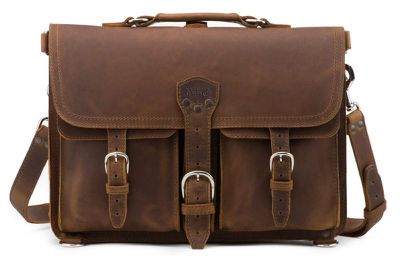 Measuring in at 15 inches by 11.5 inches by 3.5 inches, the Pocket Briefcase is not a small bag, so it's big enough to hold a 12.9-inch iPad Pro, a Retina MacBook, a 13-inch MacBook Pro/MacBook Air, or a 15-inch Retina MacBook Pro. I was able to fit multiple Apple products inside, along with all of their accessories.
The Pocket Briefcase is made from a super thick, rugged full-grain leather and features a saddle-style buckle and two outer pockets that also clasp with buckles. When new, the bag is rigid and the main buckle is a bit hard to work with, but it should soften up within a few weeks. The outer leather looks like it'll weather nicely, gaining a lot of character over time from scratches and bumps, and it's undeniably sturdy, made from just a few pieces of leather with careful stitching.
Aside from the two outer buckle pockets, a pen pocket, and a rear pocket large enough to hold papers or magazines, there's one main pocket on the inside of the bag, roomy enough to hold the aforementioned laptop along with accessories and anything else you might need to carry. There are two hidden side pockets within the main pocket, sized to hold items like pens, pencils and flash drives, and there's a leather key fob.
The padded leather strap can be used to wear the briefcase as a messenger bag or as a backpack depending on how it's buckled, so can be worn in whichever way is most comfortable. The shoulder strap can also be removed entirely so it can be used as a traditional briefcase with just the padded hand strap, and no matter how you're using it, it's going to get compliments. This is a stylish, rugged briefcase.


At 5.35 pounds, this is not a lightweight bag, but the craftsmanship is superb and it looks like it'll be able to stand up to a lot of abuse while still looking great. Saddleback Leather Company offers a 100 year guarantee on its products, so this is a bag that you buy for life.
The Thin Front Pocket Briefcase is normally priced at $489, but one MacRumors reader will win one for free. To enter to win, use the Rafflecopter widget below and enter an email address. Email addresses will be used solely for contact purposes to reach the winner and send the prize.
You can earn additional entries by subscribing to our weekly newsletter, subscribing to our YouTube channel, following us on Twitter, or visiting the MacRumors Facebook page.
Due to the complexities of international laws regarding giveaways, only U.S. residents who are 18 years of age or older are eligible to enter. To offer feedback or get more information on the giveaway restrictions, please refer to our Site Feedback section, as that is where discussion of the rules will be redirected.