Apple has announced that its The Oaks retail location in Thousand Oaks, California reopens this Saturday, August 27 at 10:00 a.m. local time. The location, which first opened on October 29, 2005, has been closed for renovations since March. The renovated space is expected to have a Jony Ive-inspired next-generation design and double the square footage within the shopping mall.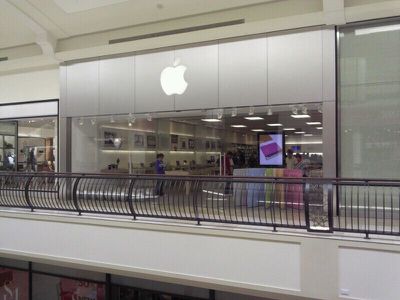 Apple The Oaks, opened on October 29, 2005, prior to renovations
Meanwhile, Apple's retail location at the CambridgeSide Galleria shopping mall in Cambridge, a suburb of Boston, Massachusetts, will
close for renovations
one day later on Sunday, August 28. During the closure, Apple recommends that customers visit the nearby Apple Boylston Street or Apple Chestnut Hill locations. The closure is presumably to allow for similar next-generation design updates.

Apple CambridgeSide, opened on December 15, 2001, prior to renovations
Apple is in the process of
renovating several of its retail locations
in the U.S. and around the world. The new layout includes a combination of
The Avenue, Genius Grove, The Forum, The Plaza, and The Boardroom
. All new locations since around mid 2015 have been based on the new design language, including the flagship
Apple Union Square
. Apple now has
over 30 retail locations based on the new design language
.
A list of next-generation Apple retail locations renovated or opened to date:

Infinite Loop in Cupertino, CA

Apple Union Square in San Francisco, CA

Apple Corte Madera in Corte Madera, CA

Apple Williamsburg in Brooklyn, NY

Apple World Trade Center in New York, NY

Apple Walden Galleria in Buffalo, NY

Apple Crossgates in Albany, NY

Apple Aspen Grove in Littleton, CO

Apple Chestnut Hill in Newton, MA

Apple Derby Street in Hingham, MA

Apple Saddle Creek in Memphis, TN

Apple West County in St. Louis, MO

Apple Annapolis in Annapolis, MD

Apple Country Club Plaza in Kansas City, MO

Apple Sherman Oaks in Sherman Oaks, CA

Apple Brent Cross in London, England

Apple Brussels in Brussels, Belgium

Apple Marseille in Marseille, France

Apple Yas Mall in Abu Dhabi, UAE

Apple Mall of the Emirates in Dubai, UAE

Apple Chaoyang Joy in Beijing, China

Apple MixC Nanning in Nanning, China

Apple MixC Shenyang in Shenyang, China

Apple Xiamen Lifestyle Center in Xiamen, China

Apple Nanjing IST in Nanjing, China

Apple Parc Central in Guangzhou, China

Apple MixC Qingdao in Qingdao, China

Apple Olympia 66 in Dalian, China

Apple Riverside 66 in Tianjin, China

Apple Parc 66 in Jinan, China

Apple Thaihot Plaza in Fuzhou, China

Apple Global Harbor in Shanghai, China

Apple Hopson One in Shanghai, China

Apple Galaxy Mall in Tianjin, China

Apple Galaxy Macau in Macau, China

Apple New Town Plaza in Hong Kong, China

Keep track of new and renovated locations with our Apple Stores roundup.