Samsung Doubles Apple's Share of Smartphone Market as Customers Await iPhone 7
The latest data from market research firm IDC reveals that Samsung shipped nearly twice as many smartphones as Apple in the fiscal third quarter. Android-based Galaxy smartphone shipments totaled an estimated 77 million, compared to 40.4 million iPhones, during the three-month period that ended in late June. For Apple, the fiscal third quarter is seasonally its lowest of the year.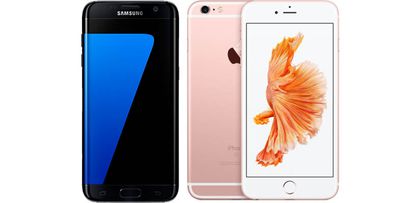 Samsung was the most popular smartphone vendor in the quarter with a leading 22.4 percent market share, nearly double Apple's 11.8 percent market share. Samsung experienced 5.5 percent year-over-year growth on the strength of the Galaxy S7 launch in March, whereas Apple declined 15 percent compared to the year-ago quarter as customers await the iPhone 7 series in September.
One bright spot for Apple was the lower-priced iPhone SE, although the iPhone's average selling price dropped to $595 compared to $662 last year:
Apple's second quarter saw the Cupertino-based giant ship 40.4 million iPhones, representing a 15.0% year-over-year decline from the 47.5 million units shipped last year. The new 4-inch iPhone SE proved successful in both emerging and developed markets as the new SE has captured many first-time smartphone buyers as well as Android users switching over to the Apple ecosystem. The success of the cheaper SE did, however, have an impact on the overall average selling price (ASP) for an iPhone in the quarter. The ASP for an iPhone was $595, down 10.1% from $662 one year ago. As smartphone competition continues to escalate and upgrades continue to slow, Apple will look to drive sales with a newly designed iPhone 7 combined with their upgrade program come this fall.
Apple also ceded market share to Chinese rival Huawei, which ranked third among smartphone vendors with an estimated 32.1 million shipments and 9.4 percent market share. Huawei manufactures Google's popular Nexus 6P and introduced new dual-camera P9 and P9 Plus smartphones in April, but its presence in the United States and other regions is still limited compared to China.


Chinese rivals OPPO and Vivo rounded out the top five smartphone vendors with quarterly sales of 22.6 million and 16.4 million units respectively. OPPO in particular saw explosive 136.6 percent year-over-year growth over the three months, increasing its market share to 6.6 percent compared to 2.8 percent in the year-ago quarter. Vivo had 9.1 percent market share, an 80.2 percent year-over-year change.
Worldwide smartphone shipments totaled an estimated 343.3 million units in the quarter, an increase of only 0.3 percent from the year-ago quarter, when vendors shipped an estimated 342.4 million units. The relatively flat growth is the result of market saturation and lengthening upgrade cycles, which vendors have attempted to offset by offering incentives such as the iPhone Upgrade Program.
On Wednesday, Apple CEO Tim Cook said the company recently sold its 1 billionth iPhone.