Apple Partners With Parkopedia to Bring In-Depth Parking Data to Apple Maps
Parking service company Parkopedia today announced that it will begin to provide its enhanced and detailed parking information services directly within Apple Maps. With the partnership between the two companies, that means iOS users will be able to visit Apple Maps to discover more than 40 million parking spots in 75 countries across North America, Europe, Asia and Latin America.
The integration of Parkopedia into Apple Maps actually began in March inside of the United States, but today marks the official worldwide launch of the new resource. With the parking company's "rich information," Apple Maps users will be able to search for parking garages and lots, while reading about their location, payment type, number of spaces, and more. Future updates will allow users to filter search results, in order to discover the cheapest lots first, for example.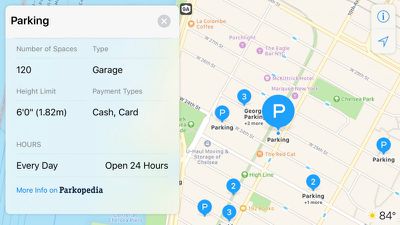 While reading through some Parkopedia information for a parking lot in Apple Maps, users will be able to follow a link to reserve a spot, although that process takes them out of Maps to complete the payment process on the Parkopedia website or within the company's iOS app [Direct Link]. "More detailed information" will also be available outside of Apple Maps and in Parkopedia itself, including pricing, user reviews, special offers and real-time space availability.

"We're excited to deliver detailed information on more than 40 million parking spaces in 75 countries to Apple Maps customers. This is a very important milestone for Parkopedia. Our combined footprint in the consumer and automotive space is huge and this opens the doors to delivering a world of innovative solutions," stated Parkopedia's Head of Marketing, Christina Onesirosan Martinez.
Apple Maps has been receiving steady updates to help bolster its navigation and research abilities for users visiting new cities, or simply trying to find new venues in their hometown. Among these changes coming in iOS 10 are new parked car notifications, which reminds users where they left their car -- especially when parking in large garages or lots -- with the help of a simple geo-locked icon within Apple Maps. Combined with Parkopedia's information catalog, this could help Apple get a leg up on its rivals in the GPS map app space.