Apple Ordered to Halt iPhone 6 Sales in Beijing Over Patent Infringement Ruling [Updated]
The Beijing Intellectual Property Office has ruled that Apple's iPhone 6 and iPhone 6 Plus infringe on the patent rights of another smartphone sold within China -- Shenzhen Baili's 100c device -- leading to the possibility that Apple may have to cease sales of its handset in Beijing completely. Apple is expected to appeal to the Beijing Higher People's Court and the Supreme People's Court in attempts to keep its two handsets in circulation within Beijing.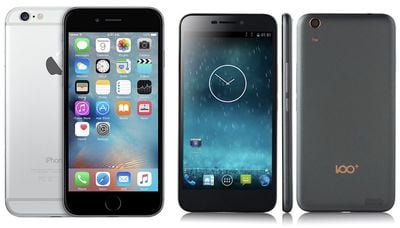 However, as Bloomberg points out, if the case turns out badly for Apple, lawsuits that the company face in the future could potentially look back at the Shenzhen Baili ruling as a precedent. Beijing has a population of 21.7 million people, so it could have a larger-than-expected negative impact on a territory that Apple has already struggled with in the past.

The iPhone 6 and iPhone 6 Plus infringe on Shenzhen Baili's patent rights because of similarities to its 100C phone, the Beijing Intellectual Property Office wrote in its decision.

While the decision covers only Beijing, future lawsuits against Apple could take the case as a precedent, potentially influencing the outcomes of litigation elsewhere in China. Baili is one of scores of smartphone brands trying to cash in on the country's mobile boom.
Just last month, Apple lost the exclusive rights to the name "iPhone" in China, after a ruling by the Beijing Municipal High People's Court favored leather goods maker Xintong Tiandi Technology. Apple has stayed headstrong in a retail rollout plan of new stores and locations for its Chinese users to visit and purchase its products, but the company still faces unexpected roadblocks in the country due to its strict internet policies.
Update: In a statement given to CNBC, Apple confirmed that both the iPhone 6 and 6 Plus (along with newer models) are "available for sale today in China," and that the company is already going through the appeal process in Beijing.
"iPhone 6 and iPhone 6 Plus as well as iPhone 6s, iPhone6s Plus and iPhone SE models are all available for sale today in China. We appealed an administrative order from a regional patent tribunal in Beijing last month and as a result the order has been stayed pending review by the Beijing IP Court," Apple told CNBC in a statement.