A new DevMate survey recently polled around 700 Mac developers to get responses on how they feel working on OS X, and the lack of app visibility on Apple's Mac App Store. As The Next Web reports, the developers' responses highlight a stark difference in the iOS and OS X platforms, with a majority of DevMate's surveyed developers dissatisfied with Apple's 30/70 revenue split and poor distribution policies.
When asked, "How do you distribute your Mac applications?" nearly 35 percent of the quizzed developers preferred to specifically share and market their apps outside of the Mac App Store, on their own third-party websites. About 23 percent stick solely to Apple's Mac App Store for distribution, while 42 percent are straddling the line and working with both. Sources of revenue for the developers in the dual-distribution approach are said to be "split almost evenly."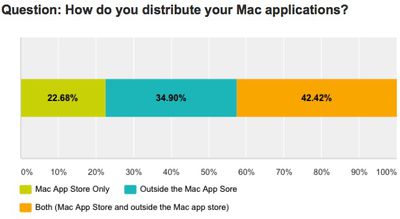 All the same, those in the weeds of the Mac App Store say they would advise another developer against selling their app within Apple's OS X storefront. Of those 35 percent of developers living exclusively outside the Mac App Store, "a whopping 97 percent say they'd try to talk someone out of using Apple's official App Store."
Another section of the survey asked if developers believed Apple's 30 percent revenue cut was worth all of the features gained from using the Mac App Store, with 62 percent responding with "no." Problems arise from the developers' inability to address and communicate with reviewers directly, or offer trial periods for apps.


Apple's OS X App Store has been a pale comparison to its iOS relative since its launch five years ago. Rumors swirling around a possible rebrand of OS X to "macOS" have led to hopeful speculation that changes could also come to Apple's lackluster desktop App Store, but the company has yet to comment on any of these reports. With a software-heavy WWDC predicted for next week, it's possible that Apple will address some OS X-related concerns during its keynote speech.