Apple is set to make Bollywood superstar Shah Rukh Khan its brand ambassador for India, according to a local report yesterday.
Indian tech website PC Tablet cited sources familiar with the matter, claiming that the announcement will be made when Apple launches its latest iPhone models in India later this year.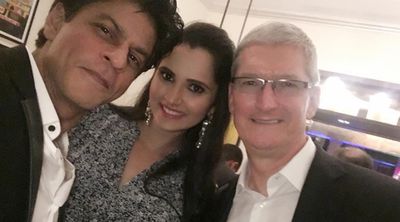 Tim Cook with stars Shah Rukh Khan (left) and Sania Mirza. (Source: Instagram)
Apple CEO Tim Cook attended a
private dinner at Khan's home
during his recent weeklong visit to the country. Before the Bollywood star-studded dinner, Cook was also escorted around movie sets by the president of India's Film and TV Producers Guild, Mukesh Bhatt, who said Cook was "keen to see how Apple could partner with the Indian film industry".
Apple has a number of brand ambassadors around the world, including Brazilian-born FC Barcelona soccer player Neymar and NBA player Steph Curry.
Last month it was reported that Apple is close to signing England international soccer player Raheem Sterling as its figurehead of Apple's promotional work around the European Championship this summer.