Apple's App Stores, Some iCloud Services Experiencing Temporary Outage
According to Apple's system status page, multiple store services are currently experiencing an outage. The App Store, Apple TV App Store, Mac App Store, iTunes in the Cloud, and the Volume Purchase Program are unavailable for some users.
The outage started just after 12:30 p.m., and we have also heard reports of problems with Apple Music and Apple News, though those are not service outages currently listed on the system status page.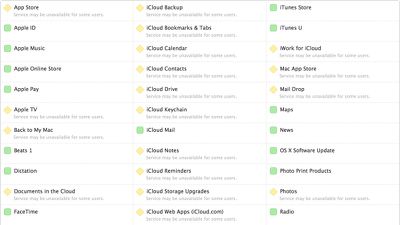 Apple is investigating the issue and will bring the services back online as soon as possible.
Update: Several more iCloud services are now experiencing issues, as seen on Apple's system status page.
Update 3:40: The App Stores and some Apple services are back online, but iCloud Backup, iCloud Drive, Mail Drop, Photos, and a few other service remain offline.