Today Marks the 15th Anniversary of Apple's First Two Retail Stores
Today marks 15 years since the first two Apple retail stores opened on May 19, 2001 in Tysons Corner, Virginia and Glendale, California. The locations welcomed over 7,700 people and combined to sell $599,000 worth of merchandise during their first two-day weekend. Apple opened 25 more stores by year's end.
The retail initiative was spearheaded by Apple co-founder Steve Jobs, who recognized the need for a better customer experience than provided by third-party retailers such as Circuit City. Jobs was helped by a retail team led by former Target vice president of merchandising Ron Johnson and Gap CEO Millard Drexler.
Steve Jobs introduces the Apple Store in Tysons Corner, Virginia
While some critics believed that Apple retail stores would be a resounding failure, especially given the
dot-com collapse
, the concept proved to be highly profitable and successful. Apple Stores now attract over 1 million customers worldwide per day and often generate the highest sales-per-square-foot of any U.S. retailer.
The first Apple Store outside of the U.S. opened on November 30, 2003 in Tokyo, Japan, and the company now operates over 475 stores in the U.S., U.K., Australia, Belgium, Brazil, Canada, China, France, Germany, Hong Kong, Italy, Japan, Netherlands, Spain, Sweden, Switzerland, Turkey, and United Arab Emirates.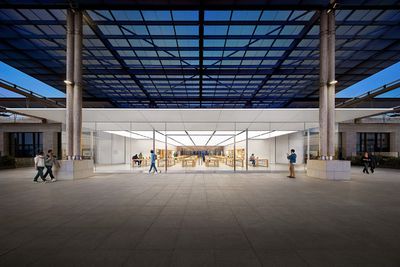 Apple's latest retail store opened in Marseille, France on May 14
Under the leadership of Angela Ahrendts, Apple has been aggressively expanding its retail footprint in China, its second largest market by revenue, while opening and renovating several stores in Brussels, Cupertino, Dubai, London, Memphis, and other cities with Jony Ive-inspired next-generation designs since 2015.
15 years ago today, we opened our first 2 Apple stores. Now we have 478 stores worldwide and over 60k employees that make it all so magical. — Angela Ahrendts (@AngelaAhrendts) May 19, 2016
Read our
Apple Stores roundup
to learn more and keep track of
new
,
renovated
,
upcoming
, and
rumored
stores around the world.