iPhone Drops to 15% Market Share as Smartphone Market Goes Flat
The latest data from research firm IDC reveals that Apple's smartphone market share dropped to 15.3 percent in the March quarter as the worldwide smartphone market fell nearly flat during the first three months of 2016.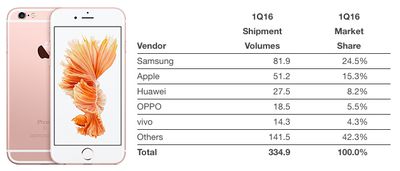 Apple yesterday reported iPhone sales of 51.2 million during the three-month period ending March 26, compared to 61.2 million units and 18.3 percent market share in the year-ago quarter. Meanwhile, overall smartphone shipments totaled 334.9 million during the quarter, a year-over-year increase of only 500,000 units.
Despite the plethora of new features found on the newer "S" models, current iPhone 6/6 Plus owners may feel that a 6S upgrade may not be warranted at the moment. Apple also announced the new iPhone SE, which looks to challenge similarly priced Android options in numerous emerging markets where Apple has traditionally been seen as too expensive.
Samsung continued to lead the market with 81.9 million smartphones shipped for 24.5 percent market share, down only slightly from 24.6 percent in the year-ago quarter. Huawei, OPPO, and Vivo rounded off the top five smartphone makers in the quarter as Chinese vendors continue to churn the top of the charts.
Huawei, which manufactures Google's popular Android-based Nexus 6P smartphone, shipped 27.5 million handsets during the quarter for 8.2 percent market share as it attempts to compete with Apple and Samsung in the U.S. market and other regions beyond China. Its market share was 5.2 percent one year ago.
OPPO and Vivo, meanwhile, pushed out Lenovo and Xiaomi respectively for the fourth and fifth spots on the top smartphone vendors list.