Demand for iPhone SE is 'Very Strong,' Exceeds Available Supply
Apple hasn't divulged sales numbers for the recently released iPhone SE, but during today's second quarter earnings call, company executives said that demand for the device was "very strong" and higher than expected.
According to Apple CEO Tim Cook, the iPhone SE puts Apple in a strategic plan to attract new customers with its affordable price point and powerful internal specifications. Cook says Apple is working hard to meet demand and improve shipping times for the device.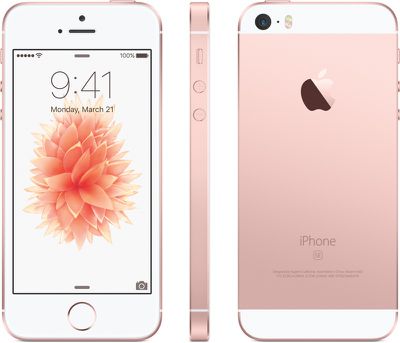 We're thrilled with the response that we've seen on it. It is clear that there is a demand there even much beyond what we thought. That is really why we have the constraint that we have.
Since its release, the iPhone SE has been in short supply despite reports of lackluster sales. For the past several weeks, new iPhone SE orders have listed expected delivery times of two to three weeks, suggesting Apple has not yet been able to meet demand for the device.
Priced attractively at $399 for the entry-level 16GB model, the iPhone SE adopted the external design of the iPhone 5s with parts sourced from later iPhone models like the iPhone 6 and the 6s. The result is a 4-inch iPhone that is on par performance wise with Apple's current flagship devices.
Positive news about the iPhone SE comes as Apple is reporting its first ever decline in iPhone sales and its first year-over-year decline in revenue in 13 years. During the quarter, Apple sold 51 million iPhones, down from 61 million in Q2 2015. Revenue was at $50.6 billion, down from $58 billion in the year-ago quarter.
Apple's guidance for Q3 2016 suggests it expects the downward trend to continue, with the company forecasting expected revenue of $41-43 billion. In Q3 2015, Apple posted revenue of $49.6 billion.