Product Hunt, the site that specializes in surfacing new technology products, books, games, and podcasts, is today launching a dedicated Mac app. The Product Hunt Mac app adds a menu bar widget to Macs, giving users a way to stay updated with new site content throughout the day.
Once installed, Product Hunt for Mac adds a "P" icon to the Mac's menu bar, which can be clicked to display a list of the day's stories. It's a simple app that has few bells and whistles, but it offers Product Hunt fans a quick way to access posts. The app updates on a regular basis and is set up to display a notification badge whenever an unread story is available.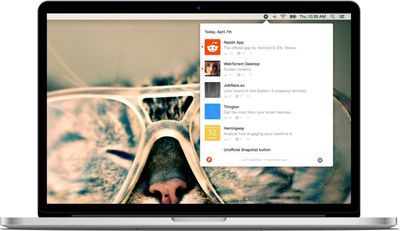 In the app, users will see a list of the most highly upvoted products, games, podcasts, and books, with trending posts at the top of the feed. Clicking on a story headline opens the Product Hunt website in the default browser, where users can read more about a particular product.
Settings allow for a small bit of customization, with filters for only displaying posts that have a certain number of votes to limit the content that's offered up. There are also built-in FAQs and help documents for users who are new to Product Hunt.
Product Hunt for Mac is open source and available on GitHub, allowing Product Hunt users to help improve it. Product Hunt also offers an API for developers to create third-party apps for the web, iPhone, and Android. The new Mac app can be downloaded from the Product Hunt website for free.