At today's National Association of Broadcasters Convention (or NAB), LaCie announced the new 12big Thunderbolt 3 professional 12-bay desktop RAID storage solution.
The 12big combines a storage capacity of up to 96TB with the performance speeds of Thunderbolt 3 and RAID 5/6, aimed at helping video professionals and other creatives manage data from high-end cameras that record 4/5/and 6K footage. With enterprise-class 7200RPM drives with 256MB cache and a RAID controller, the 12big can reach speeds of up to 2600MB/s or 2400MB/s in RAID 5.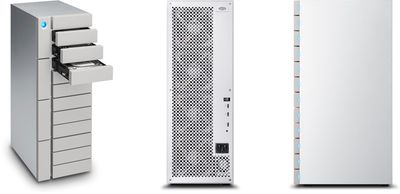 According to LaCie, the transfer speeds can "slash time off nearly every post-production workflow task," and with Thunderbolt 3, users can daisy chain dual 4K displays or a single 5K display to the 12big.
"LaCie is committed to helping video professionals master ever-increasing data demands by ensuring their irreplaceable data is secure, available on demand and always driving value," said Tim Bucher, Senior Vice President of Seagate and LaCie Branded Solutions, "The combination of higher spatial resolution and 3D imagery, as well as higher dynamic range and frame rates, is driving the need for high-capacity and high-speed digital storage systems. We purpose-built the LaCie 12big to have the speed, capacity and reliability to efficiently download and edit even the most demanding content--so our customers can focus on making their creative vision a reality."
The 12big includes a new LaCie RAID manager with a more intuitive interface for managing the 12big, with access to diagnostics and settings plus built-in tools for easily creating and managing volumes based on individual needs. The aluminum enclosure of the 12big is designed to efficiently dissipate heat, and for thermoregulated fans keep drives cool. Drive health and RAID build status can be tracked using exterior drive status LEDs located on the front of the 12big.


LaCie plans to begin selling the 12big this summer in 48, 72, and 96TB capacities both through the LaCie website and LaCie resellers.