Barclays Finally Supports Apple Pay in United Kingdom
Barclays appears to have enabled much-anticipated support for Apple Pay in the United Kingdom during the early morning hours on Tuesday.
A growing number of Barclays customers on Twitter have been successfully able to add their debit or credit cards from the large British bank to Apple Pay since shortly after midnight local time.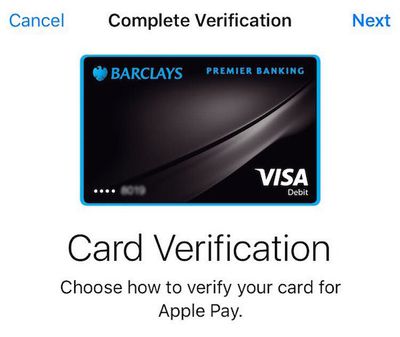 Barclays was notably absent from the list of banks and participating issuers supporting Apple Pay when the mobile payments service first expanded to England, Scotland, Wales, and Northern Ireland in July 2015.
Barclays cardholders can set up Apple Pay through the Wallet app on iOS 8.1 or later. Bank-issued cards can be scanned or added manually by tapping the "Add Credit or Debit Card" option. Follow the on-screen verification steps.
Apple Pay is also supported at Bank of Scotland, First Direct, Halifax, HSBC, Lloyds Bank, M&S Bank, MBNA, Nationwide, NatWest, Royal Bank of Scotland, Santander, Tesco Bank, TSB, and Ulster Bank in the United Kingdom.