9.7-inch iPad Pro First Impressions: Major Improvement Over iPad Air 2, True Tone Display is Great
Apple's newest iPad Pro, the 9.7-inch model, made its way into the hands of customers on March 31, and now that a day has passed, many people who purchased the powerful little tablet have shared their thoughts on the device on our forums.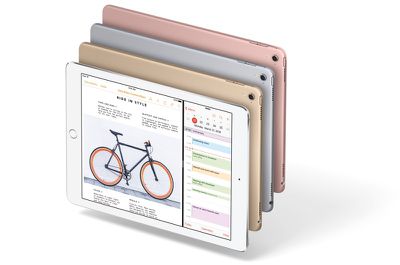 Reviews and impressions from media sites came out earlier this month, but there are always new details and small tidbits of information that come out when products see a wide release. First impressions from actual Apple consumers can also be valuable for those considering a purchase, so we've gathered up some of the details MacRumors readers have shared about the 9.7-inch iPad Pro.
A thread querying users about their happiness level with the new iPad Pro suggests opinions on the device are largely positive. More than half of respondents said the device is "amazing" or a "great upgrade." While some are upgrading from an iPad Air 2 or earlier, there are buyers who traded their 12.9-inch iPad Pros for the smaller models. MacRumors reader Traverse outlined a long list of positives about his iPad Pro, highlighting the speed improvements over the iPad Air 2.

Noticeably faster performance than my Air 2. I loved the Air 2 and never thought of it as slow and expected the A9X to yield no real world benefit in day to day use. I think a combination of that and the NAND flash improvements are huge. Apps install faster, many app launches are noticeably faster. The Music app is nearly instant open whereas the Air 2 took 2-3 seconds. I set up my iPad as new and launched Sky Guide for the first time by accident when I was putting it's widget in NC and by the time NC swiped up the app was already loaded and waiting :eek:. It's noticeable more zippy.
The True Tone display, unique to the 9.7-inch iPad Pro, is getting some rave reviews, but not all iPad Pro owners are fans of the yellowing of the display. Patriot24 says it's "insanely great," but BitSlap says he prefers bright and crisp whites. On the whole, most readers seem to like the feature quite a bit.



Can we talk about how insanely great (yeah, I went there) True Tone is?

I had to switch to my MacBook Pro/iPhone every few minutes during the setup process of my new iPad Pro to get two-factor authentication codes, and holy cow is it a major difference. I didn't realize just how stark all of the displays around me are until now. I think it has ruined me forever.

People aren't going to run out and buy iPads because of it, but it isn't hard to imagine a future where all displays have this feature.
Sound on the new iPad Pro is described as "stunning," but Cakefish points out that the speakers are prone to vibrating at high volume levels, much like the iPad Air 2. 3goldens says the vibration issue is less pronounced, though.
I personally couldn't care less. Does not bother me at all with my Air 2. But I know it aggrevates some people enough to want to rip their own hands off. So for all of you who are sensitive to the speakers vibrating I'll give you a warning that the speakers on the Pro 9.7" also vibrate. By the same amount as the Air 2. I checked it out in store today.
Some prospective buyers were concerned about the protruding rear camera on the 9.7-inch iPad Pro as it could potentially prevent the tablet from laying flat on a surface, but many report that is not the case.

The camera sticking out doesn't affect it's ability to be stable while laying flat. I usually use a foldable stand with my tablets so it's a non issue for me. The flash is great and it takes great pictures, I won't use that feature often but it's nice to have when my phone isn't nearby.
One other interesting camera quirk -- wdam123 points out that there's no flashlight option in the Control Center on the iPad Pro despite the fact that it now includes a rear flash like the iPhone. For those wondering about the color of the Space Gray iPad Pro, CD3660 says it matches the iPhone 6s but is lighter than the 2015 MacBook and the original iPad Air.
A list of all of the threads mentioned in the post is included below, along with other interesting 9.7-inch iPad Pro forum discussions.
- iPad Pro 9.7 pictures/opinions
- How happy are you with your new 9.7" iPad Pro?
- Space Gray Lighter on iPad Pro
- iPad Pro 9.7 has no option in Control Center for flashlight
- If speaker vibration was a deal breaker for you with the Air 2, don't bother getting the new Pro.
- True Tone is a Great Innovation
- The Big Pro or Little Pro
- Will itWobble?
- iPad Pro 9.7 Screen is Nice
The 9.7-inch iPad Pro is now available online, in Apple retail stores, and from third-party retailers. Pricing on the tablet starts at $599 for the 32GB Wi-Fi only model and goes up to $1,029 for the 256GB Wi-Fi + Cellular model.