Verizon Introducing $20 Fee to Upgrade Your Smartphone
Verizon customers planning on upgrading to the iPhone SE or another new smartphone should do so sooner rather than later, as the U.S.'s largest carrier has outlined plans to introduce a new $20 upgrade fee starting next week.
Beginning next Monday, April 4, a new $20 flat rate charge will be applied to smartphones purchased on a Device Payment financing plan, or at full retail price, according to a leaked internal memo obtained by MacRumors.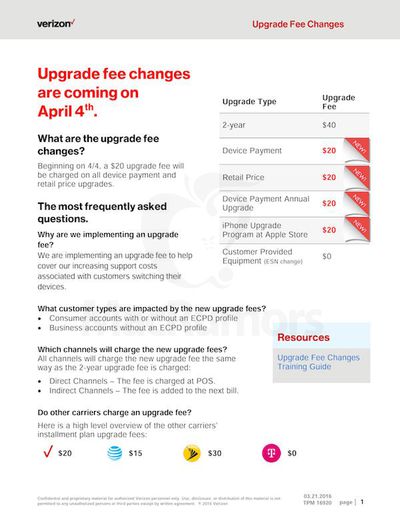 The same $20 premium will also apply to customers taking advantage of Apple's new iPhone Upgrade Program. Verizon cites "increasing support costs associated with customers switching their devices" as a reason for the new fees.
The new upgrade fees will impact all consumer accounts, as well as business accounts without an ECPD profile. Verizon's existing $40 upgrade fee for customers renewing a two-year contract with a new device remains in place.
The new $20 upgrade fee will be charged at the point of sale through direct Verizon sales channels, while the fee will be added to the customer's next bill when the smartphone is purchased through an indirect reseller.
AT&T similarly charges $15 per smartphone added or upgraded with AT&T Next, and "bring your own" devices. Sprint also charges an upgrade or activation fee up to $36 per device. T-Mobile does not have upgrade fees.