Password-Stealing Instagram App 'InstaAgent' Reappears in App Store Under New Name
Last November, a malicious app called InstaAgent was caught storing the usernames and passwords of Instagram users, sending them to a suspicious remote server. After the app's activities came to light, Apple removed it from the App Store, but it now appears Turker Bayram, the developer behind the app has managed to get two new apps approved by Apple, (and Google) both of which are stealing Instagram account info.
Peppersoft developer David L-R, who discovered the insidious password-sniffing feature in the first InstaAgent app, last week wrote a post outlining new password stealing apps created by Bayram. Called "Who Cares With Me - InstaDetector" and "InstaCare - Who Cares With Me," the apps are available on Android and iOS devices.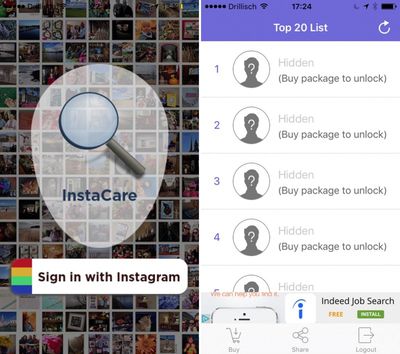 The original InstaAgent app attracted Instagram users by promising to track the people who visited their Instagram account, and the two new apps make similar promises. Both apps say they display a list of users who interact most often with an Instagram account, asking users to log in with an Instagram username and password.
David L-R investigated Bayram's new apps and discovered a suspicious HTTPS packet, leading him to uncover a complex encryption process used to covertly send usernames and passwords to a third-party server and hide the evidence. He found both the Android and iOS versions of the app send Instagram account information to unknown servers.
As I had a closer look to the iOS app I found out that the app steals the Instagram password & username to send it encrypted to "unknown" servers. The "password-stealing" algorithm and the encryption seems to be the same as in "InstaCare - Who cares with me?" a new iOS app from the "InstaAgent" developer, which malicious behaviour I discovered a few days ago. A working PoC (Proof of concept for the iOS version) can be found here.
Multiple reviews on the iOS App Store claim that after using the malicious Instagram apps, their accounts were compromised with spam photos advertising the app that were uploaded to their feeds. As with InstaAgent, the apps show up prominently in the Top Charts in some countries, though not in the United States.


Bayram's ability to get multiple new apps approved by Apple after having been found guilty of harvesting Instagram account information speaks towards the glaring issues in Apple's app review policies. It is unclear how a developer who was caught operating a malicious app was able to get additional apps past Apple's radar.
There are dozens if not hundreds of low-quality third-party apps that promise to provide Instagram users with followers and other perks, which should be avoided to avoid having account information stolen. Instagram cautions against installing third-party apps that don't follow its Community Guidelines and says such apps are "likely attempts to use your account in an inappropriate way."
(Thanks, Şizofrenik!)