AliveCor Announces Apple Watch 'Kardia Band' for Medical Grade EKG Analysis
Medical smartphone accessory company AliveCor today announced that it will bring "the first medical-grade EKG band" to the Apple Watch with the "Kardia Band," in addition to a new smartphone app for users of its heart-rate reading devices. The company already sells a few "mobile EKG" products in its online store, including cases for the iPhone 6/6s and iPhone 5/5s that have users place their fingers on metallic plates to get sufficient heart-rate readings.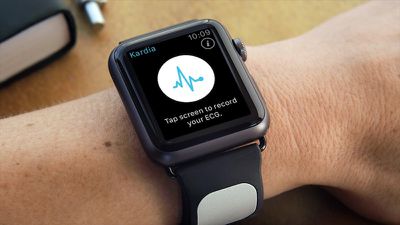 The Kardia Band for Apple Watch will function in a similar way, with a small, integrated metal sensor in the band communicating with the company's new app to take wrist-worn EKG readings. All users will have to do is navigate to the Apple Watch-compatible Kardia app, start a reading, place their thumb on the sensor, and wait for the 30-second analysis to complete. During this time, users can also speak into the Apple Watch's microphone to detail any palpitations, shortness of breath, or dietary habits that could be linked to heart-rate fluctuations.

Users can record a single-lead EKG by simply touching Kardia Band's integrated sensor that communicates with the Watch app, Kardia by AliveCor™. The Atrial Fibrillation (AF) Detector then uses Kardia's automated analysis process (algorithm) to instantly detect the presence of AF in an EKG, the most common cardiac arrhythmia and a leading cause of stroke.

Also included is the Normal Detector, which indicates whether your heart rate and rhythm are normal, and the Unreadable Detector, which tells you when to retake an EKG so physicians receive only the highest quality recordings.
The collected recordings are stored and can be viewed in the iPhone version of the Kardia app, and even sent to a patient's preferred doctor if any suspicious activity is gathered during a reading. AliveCor said that the app can also connect to Apple's stock Health app, so users can integrate their EKG readings into established fitness data like step count and calorie intake to further bolster an overall assessment of their well-being.
The Kardia Band is currently undergoing clearance approval by the Food and Drug Administration, and can't be sold until it does so, but AliveCor believes the device will be available to purchase as soon as "late spring." The updated
Kardia by AliveCor
app [
Direct Link
] can be downloaded today, however, and works with the company's re-branded
Kardia Mobile
device as well as the line of
iPhone cases
.
AliveCor encourages those interested to sign up on its website to be the first to know when the Kardia Band will be for sale and at what price.