Adobe today announced the launch of its newest Creative Cloud app, Adobe Experience Design, otherwise known as Adobe XD. Previously referred to as "Project Comet," Adobe XD is designed to address the pain points in creative workflows with an end-to-end experience for designers that encompasses designing, prototyping, and sharing.
With Adobe XD, designers can create, test, and share mockups with simple, intuitive tools. XD aims to make design the focus of the UX creation process by simplifying tools for designers and eliminating the need to work with multiple third-party apps.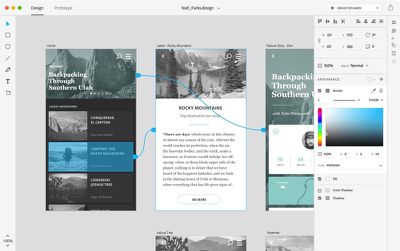 The app includes art boards that are available in standard sizes for devices like the iPhone or iPad, as well as custom sizes. Multiple art boards can be included in a single document, so designs for a range of devices can be mocked up in the same document. Built-in UI kits for iOS and Android give designers quick access to UI elements like panels, icons, controls, and more, so apps and other projects can be mocked up within minutes.


There are clever tools for things like adding vector artwork and icons, such as a repeat grid tool for adding lists of repeated items and a masking option for quick image insertion. Prototyping a design can be done by switching to an interactive prototype mode, which allows designers to use "wires" to connect different art boards together to replicate how a user experience might work in an app.


Assets from Adobe XD can be exported into apps like Muse and Dreamweaver, as well as third-party tools for creating native iOS and Android applications. There are also sharing tools for getting quick feedback on design elements.
Adobe XD is available for Mac users starting today as part of a public preview. The software has been in closed testing with 5,000 designers who have provided feedback for feature adjustments, and Adobe is now ready to open it up to additional users. Public preview users will be able to request features and submit bug reports, with Adobe using that information to determine the features and updates that get added to the software each month.


While Adobe XD is limited to Mac users at the current time, Adobe has plans to expand it to other platforms like iOS, Android, and Windows in the future. Additional integration with other Creative Cloud apps is also planned. Adobe XD is free to anyone with an Adobe ID and more information is available on Adobe's website.