Apple Music Partner Sonos Sees its Future in Streaming, Voice Control
Wireless audio company and Apple Music partner Sonos has announced it will lay off employees as it restructures the business towards a new focus on music streaming and voice control.
The reasoning behind the move came in a blog post yesterday by Sonos CEO John MacFarlane, who called it an "investment in the future of music" that would allow the company to remain profitable, but which came with "very difficult" consequences. No details were given on the extent of the job cuts.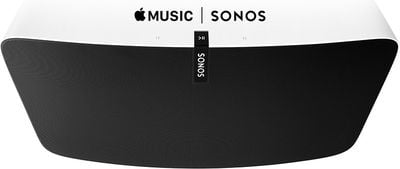 MacFarlane said the change would first see Sonos "lean into" the area of paid streaming services, following an irreversible shift in the music ecosystem, led by Apple.

This past year, when Apple announced its entry with Apple Music, we saw and helped drive a dramatic acceleration of paid music subscriptions. With Apple's influence, the entire ecosystem – labels, artists, management – began to embrace and advance streaming all over the world.

Now, this shift is irreversibly started, and everyone in the ecosystem is adjusting to a world of streaming services. The Beatles library, now available on all the streaming services, is a perfect example of how labels are leaning into streaming.
MacFarlane said the path forward for the music industry and for Sonos is "crystal clear" as he announced it was "doubling down" on streaming music, with an aim to build "incredibly rich experiences" as consumers inevitably grew dissatisfied with existing solutions for listening at home.
The CEO offered few details on the products or services that would be at the center of such experiences, but identified voice control as the way forward, calling the company "fans" of Amazon's Alexa personal assistant and Echo hardware.

Voice recognition isn't new; today it's nearly ubiquitous with Siri, OK Google, and Cortana. But the Echo found a sweet spot in the home and will impact how we navigate music, weather, and many, many other things as developers bring new ideas and more content to the Alexa platform.

Alexa/Echo is the first product to really showcase the power of voice control in the home. Its popularity with consumers will accelerate innovation across the entire industry. What is novel today will become standard tomorrow. Here again, Sonos is taking the long view in how best to bring voice-enabled music experiences into the home. Voice is a big change for us, so we'll invest what's required to bring it to market in a wonderful way.
Sonos made a name for itself by offering wireless sound systems that connect to an app which integrates third-party music streaming services including Spotify and SoundCloud. Apple Music content became available on Sonos wireless speakers in February after extensive beta testing by hundreds of thousands of listeners.
Sonos faces increasingly stiff competition as companies like Google, Samsung and Bose continue to expand their own wireless home audio solutions. However, while Amazon announced two new voice-activated audio products just last week, it also released accompanying SDKs and APIs which enable any device to respond to voice commands, opening the door for potential Sonos speaker integrations in the future.