First Mac Ransomware Found in Transmission BitTorrent Client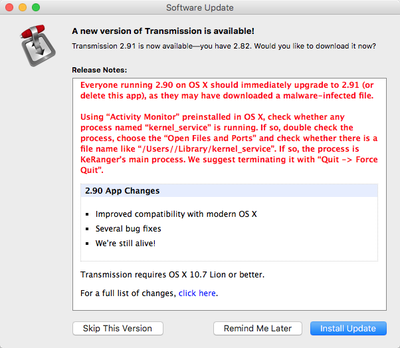 This weekend, a notice appeared on Transmissionbt.com warning users that version 2.90 of the popular Mac BitTorrent client downloaded from their site may have been infected with malware. The warning reads:
Everyone running 2.90 on OS X should immediately upgrade to 2.91 or delete their copy of 2.90, as they may have downloaded a malware-infected file.

Using "Activity Monitor" preinstalled in OS X, check whether any process named "kernel_service" is running. If so, double check the process, choose the "Open Files and Ports" and check whether there is a file name like "/Users//Library/kernel_service". If so, the process is KeRanger's main process. We suggest terminating it with "Quit -> Force Quit"
Reuters reports that the infected download contained the first "Ransomware" found on the Mac platform. Ransomware is a type of malware that encrypts a user's hard drive and demands payment in order to unencrypt it. This type of attack has been increasingly popular on the PC, but this is the first time it has been seen on the Mac.
According to Reuters, Apple is aware of the issue and has already revoked "a digital certificate from a legitimate Apple developer that enabled the rogue software to install on Macs."
The malware in question is said to delay encrypting the user's hard drive for 3 days, so we may see the first reports of those affected as early as Monday. Transmissionbt.com offers instructions on how to see you are affected (above). If you don't use the Transmission software, there is nothing you need to do at this time.
Update: Technical details about the malware.
Update 2: Transmissionbt.com says version 2.92 of Transmission will actively remove the malware.